Product certifications are everywhere. Especially when it comes to healthy people and planet certifications on everything from sheets and throw pillows to paint and flooring. But what do they all mean? Are they all created equally? Which are to be trusted and which are a futile attempt to not look like greenwashing?
There are a handful of trusted certifications that are highly recognized by manufacturers, designers, and consumers alike. You'll find them on products from Target to the Williams Sonoma family of brands, to name just a few retailers making strides in the interior wellness and sustainability space. So, what do all those letters and logos actually mean?
The gold standard for any textile-from the clothes you wear to the upholstered sofa you sit on to the bed sheets you lay on. GOTS certifies every step of the supply chain. This includes non-GMO seeds, organic farming practices free of pesticides for both plants and animals, processing and manufacturing free of harmful chemicals, as well as adhering to sustainability practices, socially responsible working conditions, and the ethical and humane treatment of people and animals. Even the labelling and packaging must adhere to the GOTS certification standards.
You will frequently find this label on bed linens and throw pillows, even at Target. Not as stringent as GOTS, but a good starting point and can be found on many affordable products. OEKO-TEX does not certify the supply chain, but rather the end product, testing for harmful substances. While limit values may be lower than regulated requirements and are deemed safe, there may still be trace chemicals that are harmful. OEKO-TEX certifications are not exclusive to organic fibers and include certifications for synthetic textiles and leather. They continue to work on better product certifications.
Specifically focused on air quality, a UL Greenguard Certification means a product has been tested for VOCs (volatile organic compounds), or airborne chemicals. Many VOCs are irritants that not only cause daily headaches or respiratory issues, but can lead to chronic diseases or cancer. A Greenguard Certification sets emission limits on products such as furniture, paint and building products, cleaning products, medical devices, and electronics. 
Simply put, an "FSC certification ensures that products come from responsibly managed forests that provide environmental, social and economic benefits," per FSC's website. You will find this certification on case goods, beds, cabinetry, and even paper products. By now, almost every forest harvested product should be FSC Certified. 
One of the longest standing certifications is finally making its way into the mainstream. A sustainability focused certification, C2C products are assessed across five categories: Material Health, Material Reuse, Renewable Energy and Carbon Management, Water Stewardship, and Social Fairness. The overall focus of C2C is to recognize and encourage sustainable products for the circular economy.
For more information on certified products, visit each certification's database to view verified products and manufacturers.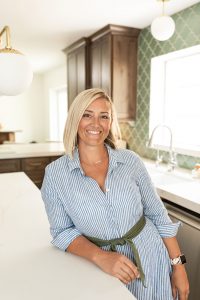 About the Author: Jennifer Beckley Sides is a Southern California based Interior Designer who not only focuses on creating timeless interiors with a modern vibrancy, but with the mental and physical well-being of the occupants at the forefront of every design detail.  By inherently choosing to work with non-toxic and sustainable materials, Jennifer creates clean spaces that empower her clients to live healthy lifestyles. 
Jennifer is Co-Founder of the group Wellness Designed, a collaborative dedicated to educating designers on health, wellness, and sustainability.  Jennifer is also a Founding Member of the Alliance for Healthy Design, an alliance of design professionals dedicated to sourcing and purchasing healthy and sustainable materials while agitating for change and demanding material transparency from manufacturers for the health and well-being of consumers. A Healthy Materials Advocate and active member of ASID, NKBA, and Sustainable Furnishings Council, Jennifer regularly participates in chapter meetings and working groups for professional development in all areas of Interior Design as it applies to not only working with clients, but in partnership with Industry Partners as well.