Last year, this article pointed out that "companies must develop and deploy two kinds of diversity: inherent ' meaning more women and people of color make up the workforce ' and acquired, meaning leaders behave inclusively to foster the speak-up culture that unlocks a broad spectrum of perspectives and toolkits.
Companies replete with both inherent and acquired diversity, we find, out-innovate and outperform the competition. Employees who work for companies like these are 45% more to report that their company improved market share in the last 12 months. And they're 70% more likely to report that their company captured a new market in that time frame. That's a remarkable testament to the impact of diversity ' not just on innovation, but on market growth."
Vivek Wadhwa, 2013 FEI Keynote and VP of Research, Singularity University, has been pushing for a book to inspire and motivate thousands of women to take their rightful place in the innovation economy.
March is Women's History Month and this year at FEI we are not only championing innovation but celebrating women in innovation.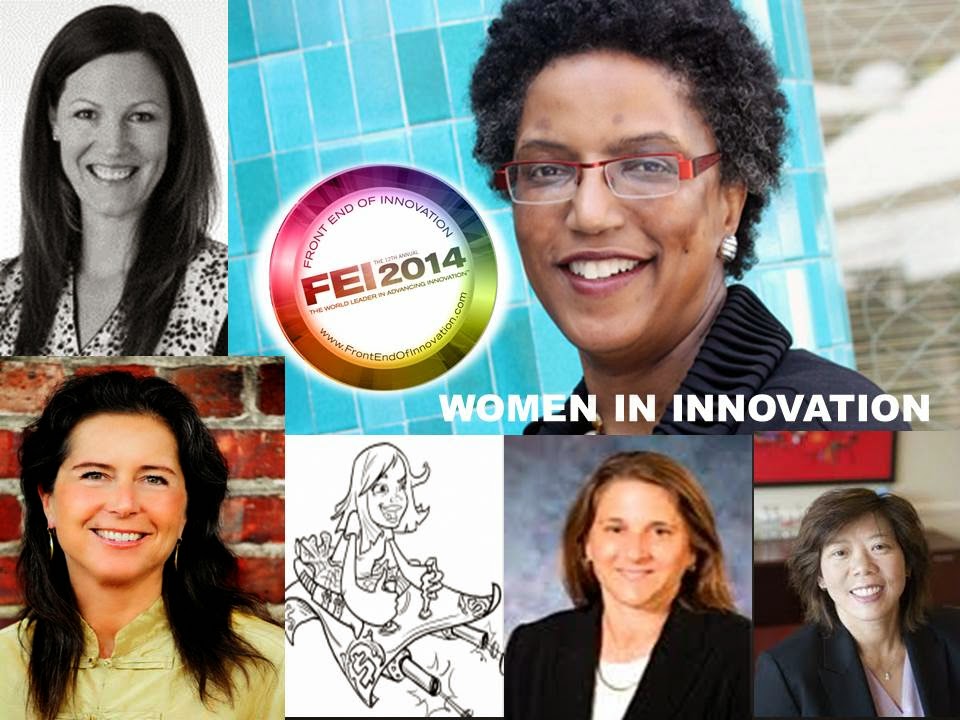 Here's our list of 40 Women in Innovation:
1. Linda A. Hill, Wallace Brett Donham Professor of Business Administration, Harvard Business School, Author, Collective Genius (June 2013), 2013 Thinkers50 Winner
Linda A. Hill is the Wallace Brett Donham Professor of Business Administration at the Harvard Business School. She is the faculty chair of the Leadership Initiative and has chaired numerous HBS Executive Education programs, including the Young Presidents' Organization Presidents' Seminar and the High Potentials Leadership Program. She was coursehead during the development of the new Leadership and Organizational Behavior MBA required course.
She is the co-author, with Kent Lineback, of Being the Boss: The 3 Imperatives of Becoming a Great Leader and Breakthrough Leadership, a blended cohort-based program that helps organizations transform midlevel managers into more effective leaders.  She is also the author of Becoming a Manager: How New Managers Master the Challenges of Leadership (2nd Edition).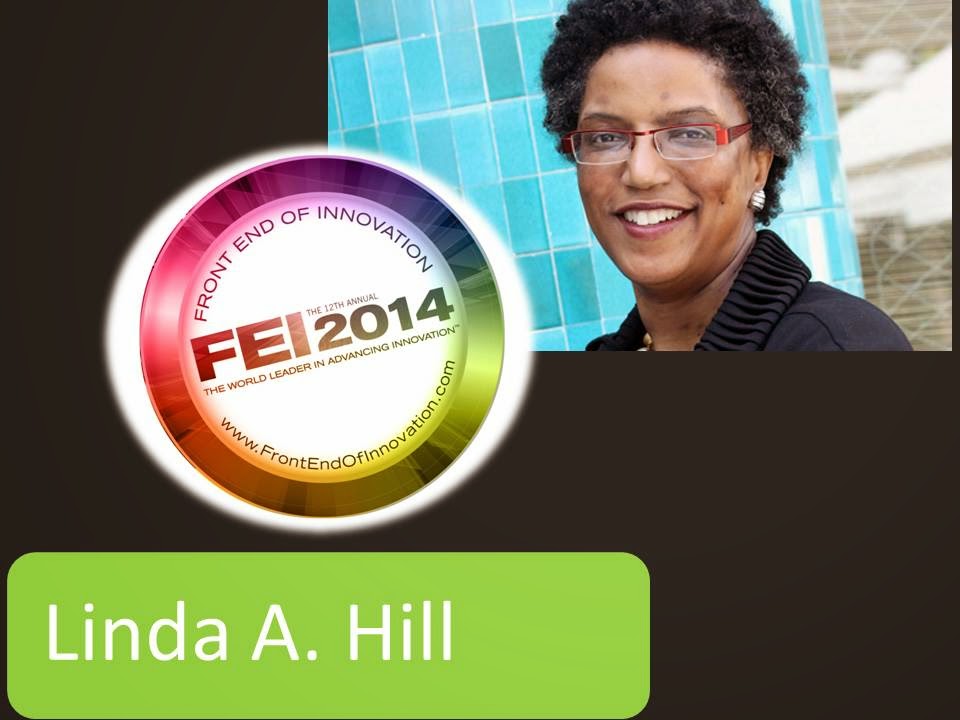 2. Julie Anixter, Executive in Residence, Disruptor Foundation, Principal, Think Remarkable, Co-Founder and Executive Editor, InnovationExcellence.
Julie Anixter is an author, speaker, designer and educator committed to positive change for organizations an and individuals through design, branding and innovation. Julie is the founder and executive editor of Innovation Excellence, a website and global community for innovation practitioners, as well as the co-author with Seth Godin of The Big Moo, and contributor to Beyond Branding.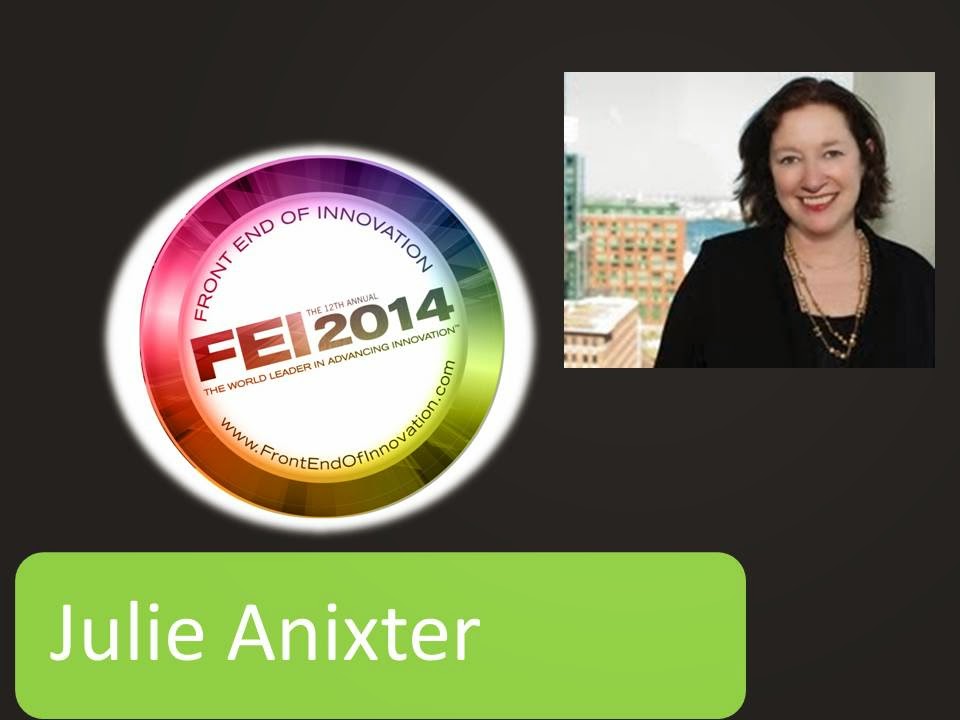 3. Nancy Quan, Global R&D Officer, The Coca-Cola Company
Nancy W. Quan is Global Research and Development Officer for The Coca-Cola Company, based in Atlanta, Georgia. She is responsible for leading global R&D priorities across both short- and long-term projects, and for setting the Global R&D agenda; working in close partnership with the operations and all key functions. In this role, Ms. Quan oversees and connects the agenda of the regional R&D centers, which serve the business needs in each group, as well as collaborate on the overall global R&D agenda. Nancy's responsibilities also include coordination of the External Technology Assessment/Acquisition (ETA) capabilities on behalf of the wider technical community, through which Coca-Cola structures strategic partnerships with Universities, key suppliers, research centers, and others to support our global R&D agenda for sustained competitive advantage.
Ms. Quan started with The Coca-Cola Company in 2007 as R&D General Manager for Europe and Eurasia Group based in Brussels, Belgium. Following this, she moved to the Corporate Headquarters in Atlanta, Georgia, where she took on the role of Vice President Innovation, working with all R&D centers and center functions. She led her team to develop longer term strategic initiatives, established the Global Innovation Platforms, and identified R&D best practice, developing key capabilities for the global R&D community.
Following this role, Ms. Quan moved to Shanghai, China, to take on the role of Vice President, Research and Development, Pacific Group. Her areas of responsibility included leading the R&D centers for the Pacific Region: the Global Innovation Technology Center located in Shanghai, the Japan R&D center, and the Development center in Delhi, India.
Prior to joining The Coca-Cola Company, Ms. Quan worked with Mars Incorporated for 18 years across multiple continents; and a diverse portfolio range, including food, confectionery and pet care products. In her time with Mars, she held key leadership roles with responsibilities in the areas of Research and Development, Nutrition, Quality, Scientific and Regulatory Affairs, Manufacturing, and Business Development. Her career has taken her to a host of different countries and has given her the opportunity to experience a range of diverse cultures.
Ms. Quan holds Bachelor of Science Degrees in Food Chemistry and Nutrition from Purdue University.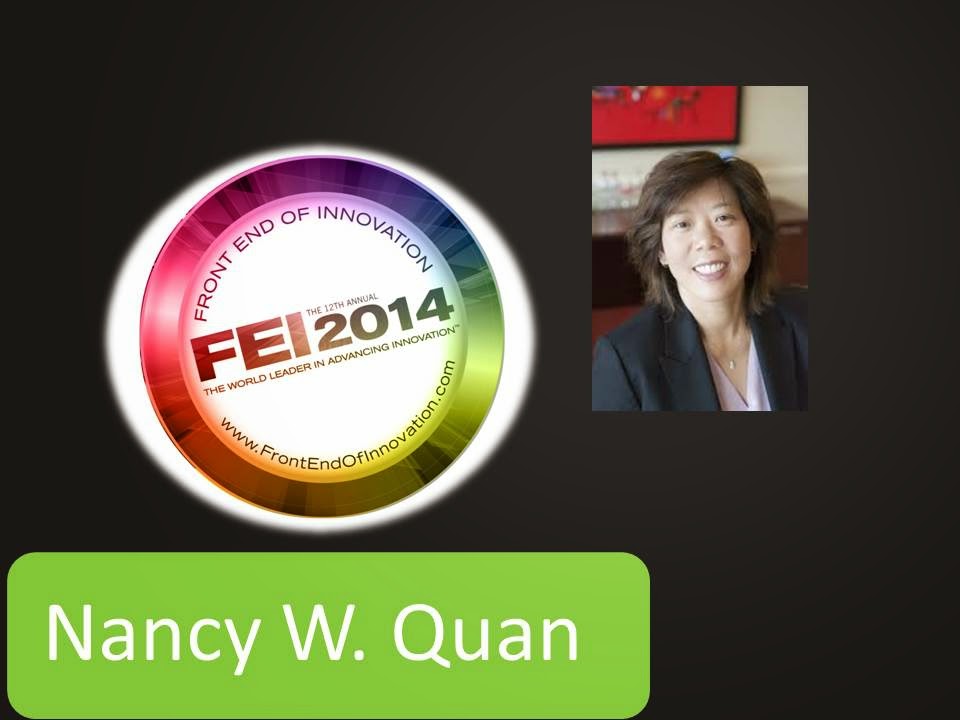 4. Ivy Ross, Former Chief Creative Officer, The Disney Store, Former EVP of Marketing, GAP, Chief Marketing Officer, Art.com
Ms. Ivy Ross has been Chief Merchandising Officer of Art.com, Inc. since July 2011. Ms. Ross served as Chief Creative Officer, Disney Store North America of Hoop Retail Stores LLC since January 23, 2007. Ms. Ross has more than 20 years of experience leading design efforts for well-known apparel and accessories retailers, including Calvin Klein, Coach, Liz Claiborne, Swatch and Victoria's Secret. Ms. Ross served as Senior Vice President of Children's Place Retail Stores ...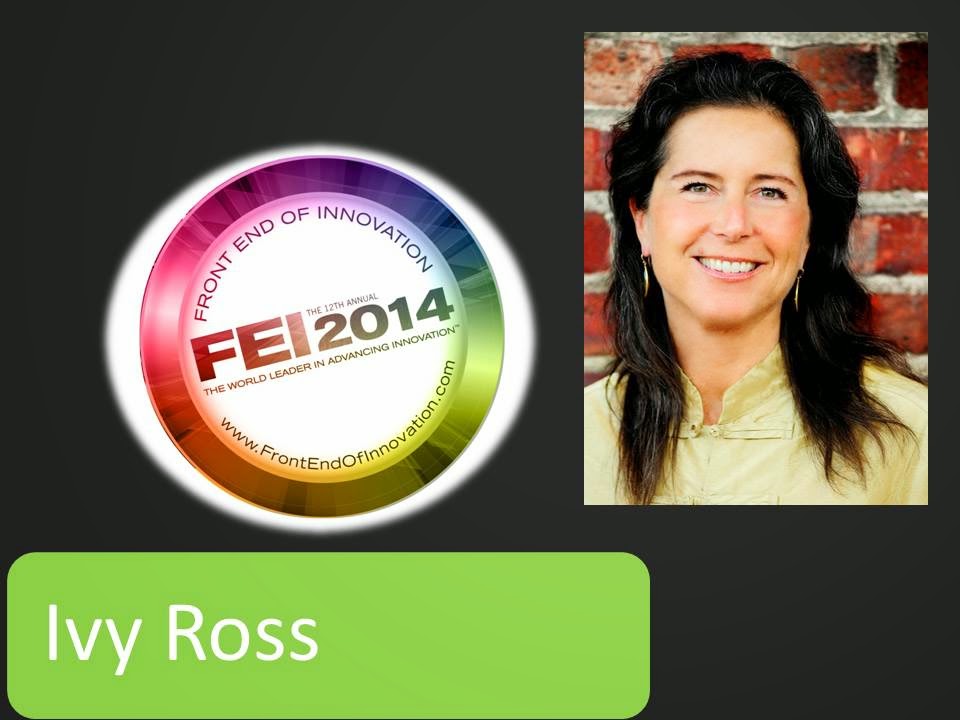 5. Sophie Vandebroek, Corporate Vice President, Xerox Chief Technology Officer and President, Xerox Innovation Group
Sophie Vandebroek is the chief technology officer of Xerox and president of the Xerox Innovation Group. She was named to these positions January 2006, and was appointed a vice president of the corporation in February 2006.
Dr. Vandebroek is responsible for overseeing Xerox's research centers in Europe, Asia, Canada and U.S. as well as the Palo Alto Research Center (PARC Inc.).
Previously, she was chief engineer of Xerox Corporation and vice president of the Xerox Engineering Center, technical advisor to Xerox's chief operating officer and director of the Xerox Research Centre of Canada.
Dr. Vandebroek is a Fellow of the Institute of Electrical & Electronics Engineers, a Fulbright Fellow and a Fellow of the Belgian-American Educational Foundation. She holds 14 U.S. patents. Dr. Vandebroek has received awards from Xerox, IBM, HP, Monsanto, the Belgium National Science Foundation, Semiconductor Research Corporation, IEEE and Cornell University. Dr. Vandebroek was inducted into the Women in Technology International Hall of Fame and elected into the Royal Flemish Academy for Arts & Sciences.
Dr. Vandebroek is a member of the Board of Directors of Analogic Corporation and IDEXX Laboratories. She also serves on the advisory council of the dean of Engineering at MIT.
Vandebroek was born in Leuven, Belgium where she earned a master's degree in electro-mechanical engineering from Katholieke Universiteit, Leuven, Belgium. She received her Ph.D. in electrical engineering from Cornell University, Ithaca, N.Y.
6. Abbie Griffin, Royal L. Garff Endowed Chair in Marketing at the David Eccles School of Business, University of Utah and Author, Serial Innovators: How Individuals in Large Organizations Create Breakthrough New Products based on interviews with over 50 Serial Innovators and a larger number of their co-workers, managers and human resource managers.
These Innovators are some of the best product development people in the world. The interviews and other empirical studies helps to understand who these Serial Innovators are as people, how they innovate, what motivates them and how best to manage them.
7. Allyson Hatfield,  who is Senior Demand Planner, Innovation, at Campbell Soup
8. Emily Riley, Connected Innovation Catalyst, General Mills Worldwide Innovation Network, General Mills Inc.
Emily Riley is Connected Innovation Catalyst in the General Mills Worldwide Innovation Network (G-WIN) Connected Innovation Team. Emily leads connected innovation initiatives, working closely with the Innovation Entrepreneurs group and R&D scientists within General Mills on defining technical problems to deliver on consumer and business needs, and leads a Catalyst team to identify potential innovation opportunities, technologies and external partners. For the past 7 years, Emily has developed approaches, tools and techniques for defining and solving technical challenges leveraging open innovation best practices. Previously, she has held positions with Wright Brothers Institute and 4iNNO, an open innovation consulting firm. As Collaborative Innovation Principal at the Wright Brothers Institute she developed a model for open innovation in government R&D and led a high performing team to deliver breakthroughs on behalf of and in collaboration with the Air Force Research Labs. Emily holds a B.S. in Chemistry from Xavier University and a M.A.T in Biological Sciences from Miami University.
9. Gail Martino, Manager, Emerging and Disruptive Innovation, Open Innovation Group, Unilever R&D
Gail manages global projects so the outputs may be seen in any of Unilever's key regions such as USA, EU, Asia and more.
10. Jennifer Ritter, Director of Global Creativity, Business Innovation, and Dreams, Estee Lauder
As the Director of Global Creativity, Business Innovation and Dreams at Estee Lauder, Jennifer is responsible for everything from ideation management and conceptual development to retail trend scouting.
11. Katie Piepiora is Director of Innovation at Samuel Adams
12. Suzanne Thompson is Vice President of R&D at Clorox
13. Barbara Sosnowski is the Executive Director of External R&D at Pfizer
14. Denise L. Fletcher, PMP, Vice President & Chief Innovation Officer Healthcare Payer & Pharma (HPP), Xerox Commercial Solutions


Denise Fletcher serves as chief innovation officer for Xerox Healthcare Payer and Pharma group. Fletcher is responsible for achieving annual group innovation revenue targets, fueling thought leadership strategies, engaging customers in innovation strategies, and driving innovation through a robust research and development pipeline. She has 6 patents pending in healthcare.
Fletcher is a key strategist and influencer within the Xerox Healthcare Council, a member of Xerox's University Affairs Council which seeds innovation grants to colleges and universities throughout the world and serves on the Healthcare Delivery Advisory board at WPI (Worcester Polytechnic Institute).
15. Jessica Liberatore is Principle Engineer, at Acclarent Inc., a Johnson & Johnson Company
16. Nina Zou is the Associate Marketing Director of Emerging Markets Customer Insights (Asia Pacific) , Global Strategic Marketing, ETHICON Surgical Care, at Johnson & Johnson
17. Gopika Kannan, Ph.D., Knowledge Management and Innovation Practice Lead, MassMutual Financial Group
18. Jennifer Fabrizi, Sr. Experience Design Architect, MassMutual Financial Group
19. Carol Kovac, former GM, Healthcare and Life Sciences, IBM
20. Heidi Hattendorf, Director of Innovation Development, Motorola Solutions
Heidi Hattendorf is director of Innovation Development at Motorola Solutions. She brings more than 20 years of experience in telecoms from public safety and two-way radio, to consumer mobile phones and network solutions on 3G/4G.She heads up an Innovation team focused on identifying and creating new opportunities in adjacent markets and technologies to drive growth.
Heidi frequently writes about innovation. Her latest article on 'Mastering the Art of Innovation' just appeared on Innovation Management.
21. Laura Bissmeyer, Innovation Effectiveness Facilitator, Corning Incorporated
22. Lauren Walker, Vice President, Manufacturing and Supply Chain, Amway
23. Marilyn Gorman, Senior Executive Education Leader, GE Crotonville
24. Jennifer Draklellis, Innovation Director, United Healthcare Medicare & Retirement
25. Marla Hetzel, Innovation Director, AARP Services, Inc.
26. Andrea Klemm, Director, Research & Strategic Insight, Tribune Company
27. Karin Kricorian, Director, Research, Walt Disney Parks & Resorts
28. Kate Ertmann, President, Executive Producer. [ADi] Animation Dynamics Inc.
Kate Ertmann is a businesswoman, seasoned speaker, thought leader and a charitable advocate. A child actor for kid's television programming and commercials, Kate renounced her Hollywood hopes in favor of a telecommunications degree from Ohio University. Her energetic leadership style can best be defined by the tattoo that runs the length of one arm: a series of mathematical equations, or morphisms, that represent movement, followed by the word 'GO!'. Kate's favorite food is buttered popcorn.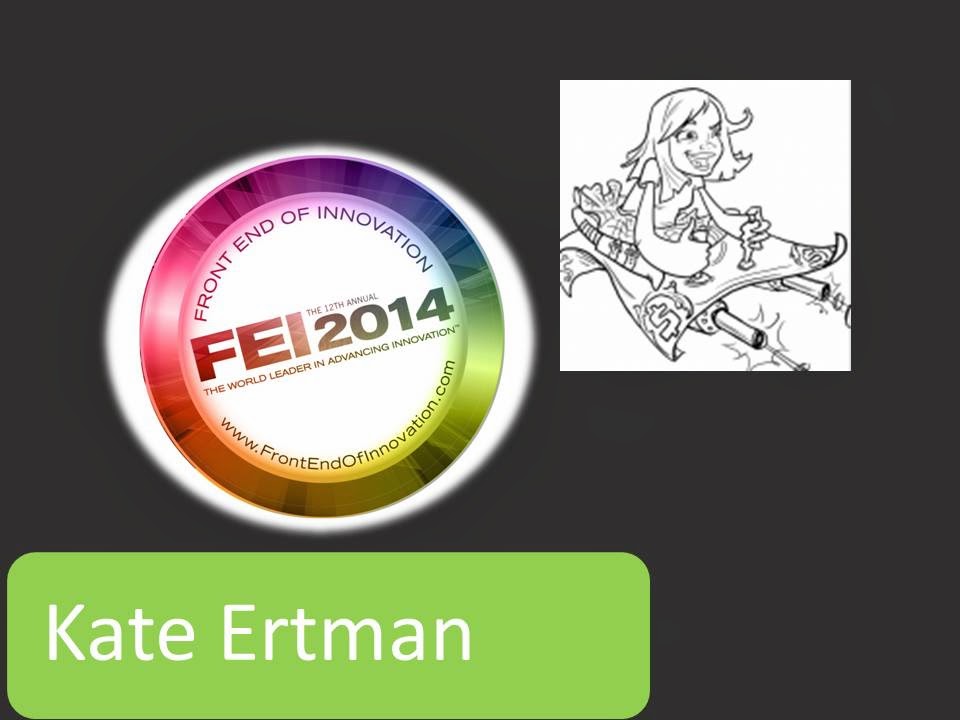 29. Judith Glaser, Organizational Anthropologist, Author, Conversational Intelligence
Judith E. Glaser is the CEO of Benchmark Communications, Inc., and the chairman of The Creating WE Institute. She is one of the most innovative and pioneering change agents, consultants and executive coaches in the consulting industry -' and refers to herself as an organizational anthropologist.
A best-selling business author, Judith is the world's leading authority on WE-centric Leadership, Neuro-Innovation and Conversational Intelligence'. Through the application of neuroscience to business
challenges, Judith shows CEOs and their teams how to elevate levels of engagement, collaboration and innovation to positively impact the bottom line.
Judith is the author of six books and an animated film on Leadership. Three of her books are best sellers including: Creating WE: Change I-Thinking to We-Thinking & Build a Healthy Thriving Organization, The DNA of Leadership, and 42 Rules for Creating WE. The Leadership Secret of Gregory Goose, and Ultimate Power, Gregory's Journey Over the Horizon, are companions to her animated film -' The Leadership Secret of Gregory Goose. Her seventh book, on Conversational Intelligence', will be published by BiblioMotion in 2013.
Judith was awarded Business Woman of the Year in New York City in 2004. In 2012 Executive Excellence 500 ranked Judith as one of the Top 15 Leadership Consultants globally, and as the #1 Woman in this category, and since 2006 she has been listed as one of the Top 100 Thought Leaders globally on the subject of Leadership. In 2011 she was awarded the Drexel University Distinguished Alumni Award, and in 2006 she was inducted into the Temple University Gallery of Success. Judith is a Founding Fellow of the Harvard Institute of Coaching.
Judith has appeared on CBS, NBC's Today Show, ABC World News, The Fox News Channel, CBS Morning News, The Martha Stewart Show and the Family Network talking about We-Centric Leadership and Cultural Transformation. She is frequently quoted on her revolutionary workplace approaches in the New York Times, The Wall Street Journal, Crain's, Harvard Management Review, AMA World, etc. and is a contributing editor for Executive Excellence magazine.
Judith has also served as an adjunct professor at Wharton, visiting guest speaker at Harvard, Kellogg, Loyola, University of Chicago, NYU, IIT, University of Stellenbosch, Etisalat Academy in Dubai, Tsinghua University in China and others. She is currently on the boards of The We Are Family Foundation, Expeditionary Learning, and was a founding member of The Executive Woman's Business Forum and Women Leader's in Health Science & Technology. She is a frequent speaker for Vistage and TEC in U.S. and Canada.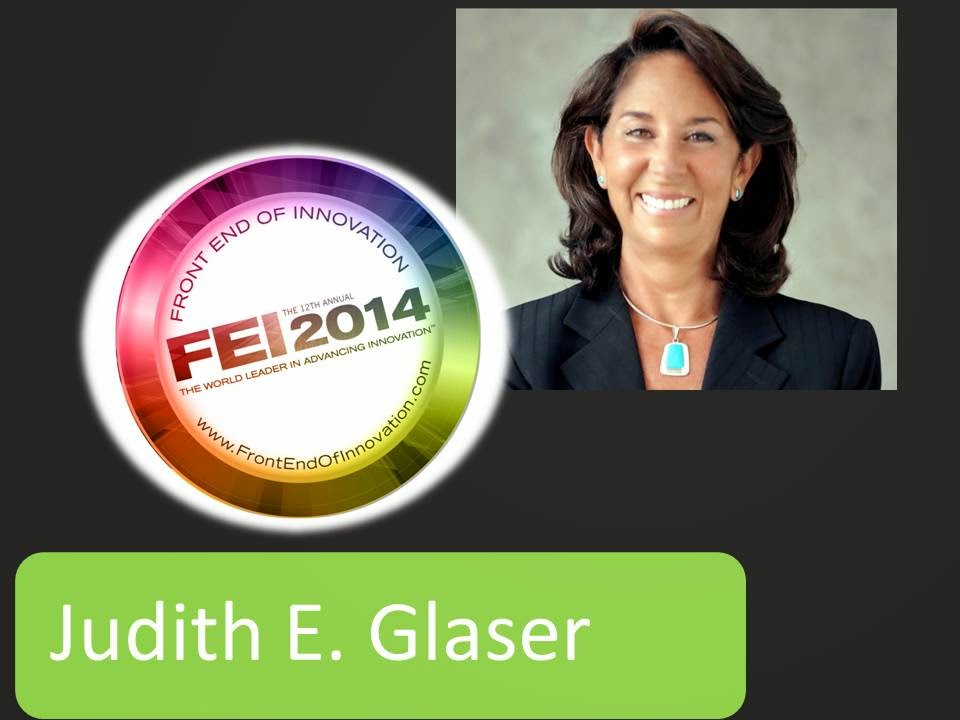 30. Whitney Johnson, Co-Founder with Clayton Christensen, Rose Park Advisors, Author, Dare, Dream, Do: Remarkable Things Happen When You Dare to Dream
In this technology era where attentions are strewn like leaves in the wind, Whitney Johnson captivates. Genuineness, warmth and an ability to breed trust underscore her personal brand, as affirmed by one of her workshop participants: 'Sincerity is often undervalued in our age of hype and hyperbole. But time and again, those who hold our attention always bring their heart into the conversation.' Whitney's heartfelt encouragement creates courage, and with that, ideas grow.
Having immersed her life and studies in the idea of personal disruption, this innovator infuses her communications with an authentic story that is both palpable and actionable. A strategic thought leader who is also a do-er, Ms. Johnson imparts a robust tale of 'what I did' along with the generalized principles of how to execute similar goals for others. She has lived her principles at the individual level, acquiring deep domain expertise, and she thrills in finding ways to influence people's behavior'through her unique approach'to make good things happen. In fact, one might say that Whitney's alignment with disruption began at birth, as an American born in Madrid, Spain, which'despite her family leaving there just six months later'forged for her a strong connection to the Spanish culture.
She later studied the language in high school and college, served 18 months as a missionary in Montevideo, Uruguay, and carried this distinct theme through to a professional life centered on Latin America. Perhaps the most life-disrupting move occurred after college graduation, when she and her new husband crossed the country, relocating to New York. While he pursued his Ph.D. at Columbia, this real life Working Girl, inspired by the fictional Tess McGill's 'sense of pluck' and relating to the character's internal drive, made something happen. A music major with a virtually empty Rolodex when she arrived on Wall Street, Whitney Johnson took the helm of her future, traversing the often-unbridgeable career divide between secretary and investment banker. To achieve this feat, Ms. Johnson studied business at night and worked 80 hours per week; her indefatigable hard work and a boss who recognized talent, propelled her to this new career rung.
From there, she navigated through a series of investment banking and research roles at Salomon Smith Barney and Merrill Lynch, when her career really took flight. Despite no prior experience in running a research platform and developing a franchise, this go-getter stepped up after an acquisition made her redundant. Her unflappable, disruptive nature further served her; instead of folding, Whitney took initiative, working grueling hours to carve out a new sector ' media. Strategic thinking, tactical implementation and roll-up-her-sleeves action were ingredients of a ground-floor recipe to become the clients' go-to person for critical financial models, with access to controlling shareholders and management, providing color on industry trends.
This pivotal uptick in her dynamic career was punctuated when Starmine recognized her as a first-rate stockpicker, and she earned eight years' consecutive honors as an award-winning analyst. A willingness to take a firm stand on an investment thesis combined with sensitivity to momentum were crucial to her persuasive calls-to-action. When she upgraded or downgraded a stock, it moved.
By 2005, when Ms. Johnson left sell-side research, she had earned a coveted double-ranking in the Institutional Investors surveys. She not only survived, but also thrived in the roiling Wall Street waters and was widely considered the axe on stocks under her coverage, regularly outperforming her peers. Talent in disruptive innovation perpetuated in her role, alongside Clay Christensen, as co-founder of Rose Park Advisors, an investment firm that was approaching $75 million in assets-under-management when she left in 2012. ROI-minded throughout her career on Wall Street and beyond, the swell of a business' profits and the creation of value are organizational sea changes Whitney continually affects. While other analysts focus on Excel spreadsheet models and writing research, this sharp-eyed analyst collaborates across silos to boost market share and ultimately, the top line. Whitney Johnson's Wall Street post script reads like a dramatic thriller, spun with influential community-building initiatives featuring global investment, journalism, academic, religious and media icons, to name a few.
Her book, Dare, Dream, Do: Remarkable Things Happen When You Dare to Dream, emerged from a writing foundation cemented after her blog was launched in 2006. Through this vehicle, she exhibits a warm, thoughtful voice with powerful distinctions, while daring people to be their best self, to act out the courage of their convictions. The intrinsic energy of her original writing has spurred frequent invitations to speak at corporations, universities, and to participate as guest mentor/panelist at renowned conferences and forums. Her reputation and brand, as well as that of Clay Christensen's Rose Park Advisors, have been elevated through her prolific blogging for Harvard Business Review and her meaningful Twitter presence. Frequently among the most-read and most-commented on, Whitney's HBR posts also elicit citations. 'Disrupt Yourself' appeared in Harvard Business Review Magazine in 2012, and in 2011, one of her posts was cited as an HBR Editor's Pick and appeared in 'Top 10 Business and Management Blogs' list by Marcus Buckingham.
She also was named one of Inc. Magazine's '12 People to Follow on Twitter in 2012,' Business Insider's '54 Smart Thinkers to Follow' and Huffington Post's '100 Business, Leadership and Technology People to Follow on Twitter.' She has been quoted in the Wall Street Journal, CNN, Fast Company, Forbes and many more high-profile media outlets. The weight of Ms. Johnson's business impact'having run a successful franchise at Merrill Lynch and launched an investment firm'has been leveraged by CEOs of early-stage start-ups, as well. She has been tapped for Advisory Boards to provide strategic and tactical advice for Shabby Apple, Just Family, Everest and 8020 World; she also serves as a Senior Advisor to the Tribeca Disruptive Innovation Awards in association with the Tribeca Film Festival. As an award-winning stock analyst, she honed her influence skills. Similarly, when speaking to corporate, university or organizational audiences, Whitney's thought-provoking reality checks and persuasive calls-to-action reverberate.
With an engaging voice, she intuitively and scholarly cobbles together disparate ideas and facilitates conversations around 'possibility' by building a case for dreaming and disrupting. She facilitates small and large groups; she holds the attention of large audiences through her mission to help people'and companies' 'disrupt themselves' and build a remarkable and surprising future. It is not uncommon for such seeds of talent to be planted early in life and cultivated through longstanding relationships. Profoundly influenced by her mother's passion for reading, Whitney continues to scribble in book margins today while nourishing her own writing career. A diversity of other early influences flexed her muscles, developing her sense of identity and play-to-win attitude. She was an ice skater, revved by Helen Reddy's 'I Am Woman,' and in grade school was picked ahead of the other girls (and many of the boys) for dodge ball. She is a classically trained pianist and during college toured with the jazz band, Synthesis, at the Montreaux Jazz Festival.
And perhaps most importantly, Whitney Johnson's career fortitude and personal convictions have been buoyed by her 25-year marriage to Roger Johnson, a Ph.D. in Molecular Biology, as they mutually support each other and raise two children. Ms. Johnson's strength is in picking winners; catalyzing others through her innovation and drive'whether stocks, start-ups or people'she sees and perpetuates the magnificence in others. Her leadership strength is only overshadowed by her quiet humility in that role. She speaks her truth clearly and gently, and lets things fall where they may. - See more.
31. Beth Kolko, CEO and Founder, Shift Labs
Beth is a researcher, educator, and entrepreneur who blends disciplinary perspectives to identify hidden problems and craft innovative solutions. She began her career as a professor in the humanities, studying how diverse communities used a then text-based Internet to organize and enact change. After a decade of work on technology adoption, adaptation, and usage patterns in low resource communities around the world, she became a professor in engineering in order to collaborate on building better solutions to intransigent problems. Her current work focuses on the potential of non-experts to create disruptive solutions, and she build programs that help people become functional engineers so they can solve problems in their communities.
She holds a position as Professor of Human Centered Design & Engineering at the University of Washington where she co-direct the Tactical and Tactile Technology Lab (formerly the Design for Digital Inclusion lab). At UW, she also created the Hackademia Project which builds innovation potential among broad audiences by imparting functional engineering skills combined with design thinking. Hackademia grows out of her experience since 2006 in makerspaces and hackerspaces and is an effort to amplify the non-expert innovation that happens outside of formal institutional settings.
Her technology development projects have included work on a low-cost ultrasound system for midwives in Uganda and a grassroots public transportation information system in Kyrgyzstan.
She is co-founder and CEO of Shift Labs, a for-profit company building low-cost medical devices for emerging markets leveraging global innovation networks.
She was also the Director of Innovation at the Makerbot Foundation (2013), a Fulbright professor at the University of World Economy and Diplomacy in Tashkent, Uzbekistan (2000), a Visiting Faculty Researcher at Microsoft Research (2007), and a Fellow (2007-2009) and Faculty Associate (2009-present) at the Berkman Center for Internet and Society at Harvard University. She's lectured around the world, and consulted for a variety of NGOs, including extensive fieldwork in Cambodia, India, Kyrgyzstan, Indonesia, and Kenya.
32. Carin Watson, Director of Corporate Innovation - SU Labs, Singularity University
Carin Watson oversees the Corporate Innovation Program at SU Labs, helping large enterprises establish an innovation outpost in Silicon Valley and leverage SU's unique global community. She has almost 20 years of marketing, product development and corporate innovation experience with Fortune 500 companies. She loves creating simple but delightful products and experiences, informed by a deep understanding of users.
Prior to SU, Carin helped drive innovation at Citi by serving as an internal consultant advising leaders and practitioners on critical capabilities, structures and processes. She also helped catalyze the establishment of Citi's global innovation lab network and launched its first digital innovation community. Having worked closely with IDEO and the Stanford d.school, she enjoys facilitating design thinking workshops for professionals, educators and students. She holds a BS in managerial economics from the University of California, San Diego and an MBA from Kellogg's School of Management.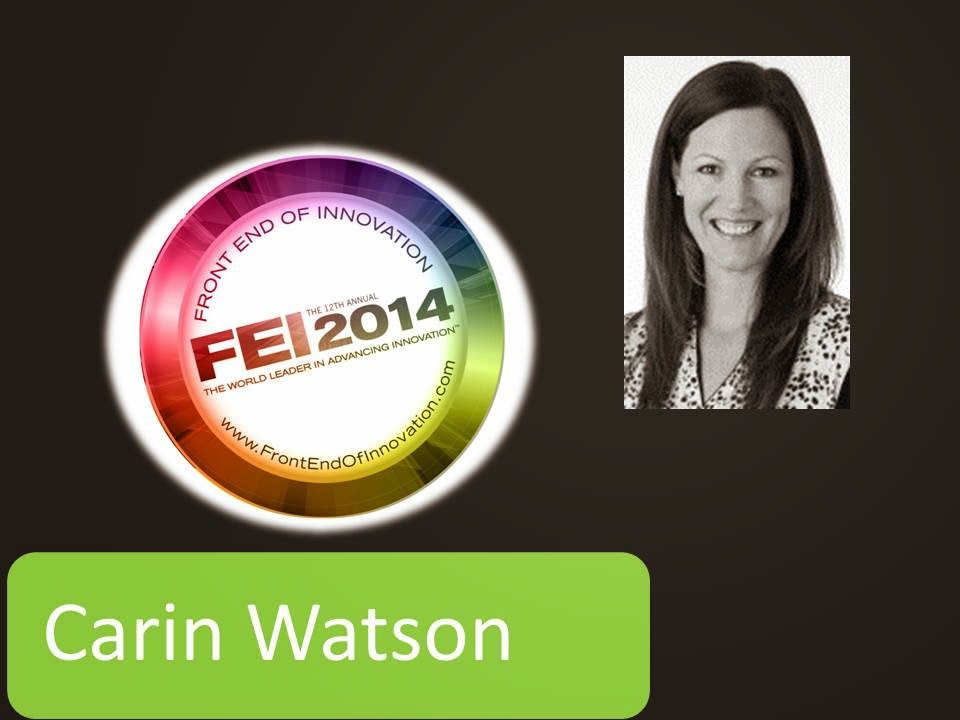 33. Ivy Eisenberg, Founder, Our IdeaWorks
Ivy is the founder of Our IdeaWorks, LLC is a Lean Customer Research company that helps companies connect with customers and others to discover business opportunities, accelerate growth, and build successful products and services.
34. Michelle James, CEO, The Center of Creative Emergence, Founder, Quantum Leap Business Improv
Michelle James is a pioneering creativity catalyst who has been using universal creative principles and the process of emergence as the basis for her work with thousands of people - individuals, corporations and communities - since starting her first business in the mid-nineties. Michelle's passion is infusing creativity and imagination into current knowledge and information systems for individual, organizational and social transformation. Her commitment is to cultivate and focus creativity, aliveness and meaning in the workplace as part of the emerging, holistic new work paradigm - one where creativity, service, purpose and commerce are  linked.
Michelle has consulted on, designed and delivered creativity and innovation initiatives and programs for organizations of all sizes. She provides generative processes, a grounded framework, whole-brain integrated learnings, and novel experiences to allow organizations to naturally co-create what is essential for them to remain consistently vital, resilient, and innovative in rapidly changing times and environments.
People naturally expand their capacities to engage their environment. Michelle expands the "playing field" by integrating multiple dimensions of creative experience into all of her work. She developed the Creative Emergence Process, Principles and Practices - which is both a framework and integrative approach for creatively unfolding what's next within an individual or system.
Known for her original and richly textured dynamic learning environments, Michelle presents at learning and creativity events internationally, and creates such events in the Washington, DC area. Her original programs and techniques have been featured in newspapers, audios, books and on television. She is one of the pioneers in the fields of Applied Creativity, Applied Improvisation and Somatic (body-centered) Creativity.
Michelle founded The Center for Creative Emergence based on her experiences with the natural creative emergence process that unfolded over time in her multi-faceted personal journey, as well as and years of work with and study of various facets of creative process and complex systems. For Michelle, the work of the Center is a calling many years in the making that began with a profound life-changing vision that emerged at age 22. This vision became her mission, passion, and purpose - and initiated the long, and sometimes rocky, road of cultivating and integrating that vision. The Creative Emergence Process, Principles and Practices are based on years of work with clients in which certain themes, patterns and self-organizing principles showed up in every emergent creative process. She later discovered a coherent fit with this process and what she learned studying process work, depth psychology, systems thinking, complexity sciences and improv theory.
Before founding the Center, Michelle owned and operated a creative services/marketing firm followed by an organizational development and training company. Prior to that, she spent a few years spear-heading innovative projects while working in communications, sales, marketing, and the media, including co-establishing a newspaper (where she got her taste of entrepreneurship and never went back). In these worlds, she learned first-hand how creative environments function and thrive. Also informing Michelle's work is her experience and education in creative processes and techniques, brain research, organizational change, group process work, depth psychology, integral theory, emerging group/system dynamics approaches (such as holacracy, appreciative inquiry, world cafe, open space, futuresearch, polarities, psychodrama, dialogue, participative design), accelerated learning, the arts, movement, bodywork, mythology, improv theater, systems thinking, consciousness studies, storytelling and the complexity sciences...and first-hand transformational experiences in her life. Her degrees are in English Literature and Communications Studies with years of diverse post graduate study.
Michelle performed full-length improvised plays with an improv troupe for 10 years through 2010, is an abstract painting artist, and is a CoreSomatics Movement and Bodywork Master Practitioner. CS is an psycho-physical creative healing modality. She also founded and runs the Capitol Creativity Network - an experiential creativity hub that has been meeting monthly since 2003. In 2008, Michelle was recognized for Visionary Leadership in Fast Company's blog, Leading Change. She produces and curates the bi-annual Creativity in Business Conference in Washington, DC. Most recently, she developed and hosted an online Creativity in Business Telesummit with creativity thought leader-practitioners from all over the world.
35. Shelley Haus, Senior Vice President, Market Opportunities and Innovation, GfK
36. Tammi Taylor, Senior Vice President, Vantis, Ipsos
37. 
Terri Grant, Vice President, Human Resources, LRL & Oncology Business Unit at Eli Lilly and Company
38. Kim Rivielle, Managing Director, Marketing and Business Strategy


Kim Rivielle holds two concurrent roles within IIR ' Managing Director, Marketing and Business Strategy and Head of Innovation for IIR USA. As head of the marketing and business strategy division within IIR, Kim is responsible for the profit and loss of the most innovative business unit in the B2B event space for the world's largest business information provider, Informa. This includes creating and driving product, marketing and sales strategy. Kim's background is grounded in consumer and market understanding. She has been with IIR since 1997 and was appointed to Head of the Division in 2001. For 19 years, Kim's passion for purposeful change has reinvented the event business.
Kim's leadership style is often described as courageous Leader, fierce Competitor and passionate collaborator.  Kim leads a team of talented content and experience directors, marketers, business development and operations folks who are committed to doing things differently. She is a strategic leader with a relentless entrepreneurial spirit and an insatiable curiosity - from the vision to the final product ' working alongside her team to bring content to life through extraordinary meaningful and purposeful experiences.
These events have become industry catalysts in each and every market they serve by connecting the right people and creating business marketplaces. This requires the constant reinvention of conference events which serve as catalysts for change. IIR events have become the benchmark against which events in general are measured.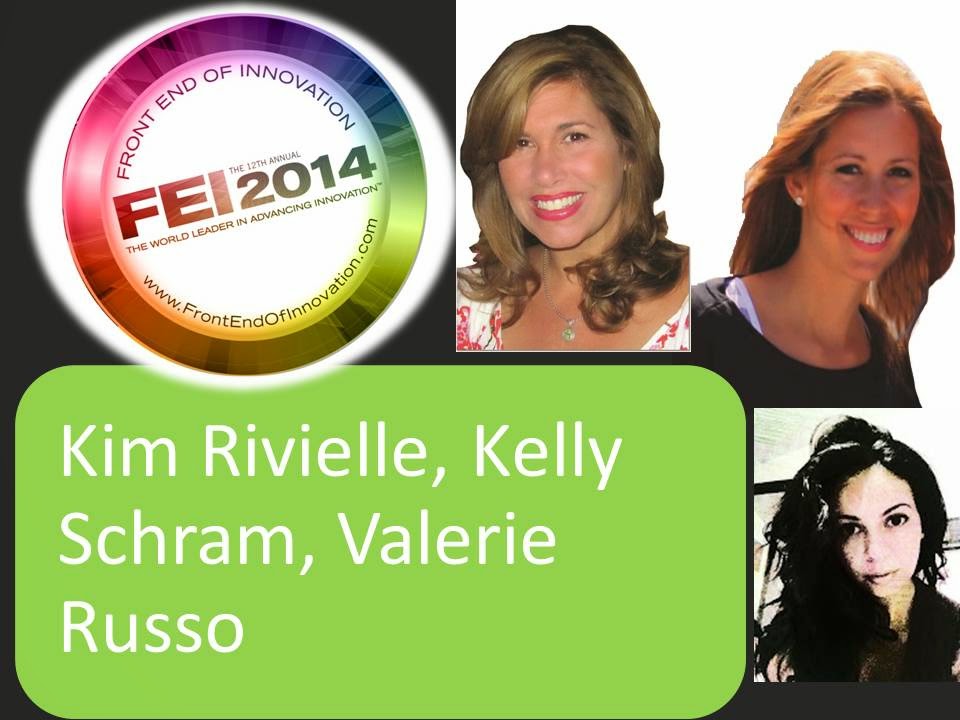 39. Kelly Schram, Conference Director, Innovation Portfolio
Kelly Schram is a seasoned conference producer in the Marketing and Business Strategy Division at IIR: Institute for International Research. She is responsible for the research, development, curation, and overall execution of the Innovation Portfolio of events, including Front End of Innovation EMEA, Front End of Innovation USA, Front End of Innovation Venice, and Front End of Innovation Canada.
Over the course of her career, Kelly has successfully developed and brought to market over 50 conferences globally. Prior to IIR, Kelly worked as a Research Analyst for the office of former US Senator Chris Dodd (D-CT). Kelly graduated Magna Cum Laude from Amherst College and earned her B.S. with a double major in Psychology and Spanish. 
40. Valerie M. Russo, Managing Editor, Front End of Innovation Blog
As the Senior Social Media Strategist for the Marketing & Business Strategy Division of IIR USA and the Innovation Lead, Valerie, has managed the FEI Blog, for over 3 years, coordinating interviews, guest posts and innovation narratives. Since its launch in 2008, the FEI Blog has received over 134,569 unique visitors. She also oversees the holistic marketing strategies for most of the Innovation Portfolio of Events' Social Channels as well as other events in the division. She studied Anthropology and English Literature at Hunter College and has worked at Hachette Book Group, Aol and Thomson Reuters in the past.