With around two thirds of platforms currently scheduled for removal in the Northwest Europe region located in the UK Continental Shelf, decommissioning activities in other countries have perhaps been overlooked. The situation, however, is changing in the Netherlands. IHS Markit's Catherine MacFarlane recently attended KNect365's Offshore Decommissioning Congress in Rotterdam to find out more.
Bob Dylan famously sang that the times they are a-changin' in 1964 – and the same lyrics are still relevant in the Netherlands oil and gas sector in 2018. Despite only being launched in October 2017, Nexstep, the national platform for reuse and decommissioning and a joint initiative of NOGEP and EBN, has already published its first annual report, providing an insight into the scale of decommissioning expected in the Dutch sector until 2027.
However, the organisation's remit does not start and end with removal work – with the reuse of oil and gas infrastructure being a key goal. The Netherlands already has a strong track history of reuse, as of the 24 offshore platforms that have already been decommissioned, the topsides of 13 of them have been reused.
However, the organisation is also spearheading research into alternative use of oil and gas facilities, including offshore electrification of production platforms, production of hydrogen, CO2 storage in depleted gas fields and geothermal applications in onshore wells. Another key goal – and recurring theme in the decommissioning sector – is the reduction of cost for decommissioning projects
Jacqueline Vaessen, Nexstep's general manager, told conference delegates that although EBN estimated in 2017 the total cost of Dutch decommissioning to be at EUR 7 billion, historical cost overruns in decommissioning projects of between 50% and 80% put estimates up to between EUR 8.5 and 10 billion. Nexstep is targeting to bring decommissioning costs down to EUR 5 billion, through collaboration, knowledge sharing, and innovation.
The task ahead however, is considerable, as by 2027, Nexstep expects that two-thirds of all wells, platforms, and pipelines will have been decommissioned or reused, with a peak in the decommissioning of offshore infrastructure in 2025 – with the removal of 22 topsides and 22 jackets expected that year – followed by a sharp decline in 2026. However, it is expected that this peak will plateau and some of the work scheduled for 2025 will be pushed back to 2026 or later.
The expected surge of work may create a potential shortage of yard space in the Dutch sector, Vaessen said, but aside from this, Nexstep did not foresee any other shortages in the supply chain. When considering the heavy-lift market – vessels which have a lift capacity of 1,500 tonnes or more – this certainly seems to be case. The lack of global installation work in recent times has had a serious impact on utilisation figures.
According to ConstructionVesselBase by IHS Markit, global utilisation for vessels with a lift capacity of 1,500 tonnes or more has not broken the 40% barrier since fourth quarter 2015. During this period, the percentage of working time spent in the decommissioning market has remained low – typically making up less than 10% of working days, although May and June this year have crept over this figure at 12% and 11% respectively.
The availability of heavy-lift vessels to meet Dutch decommissioning requirements – and indeed the rest of the region – is also likely to be smoothed over by contractors and operators taking advantage of that decommissioning work is generally not time sensitive, and are now preferring to carry out removal work within a large time frame.
One example of this was given by Aart Geurtsen, project manager at Neptune Energy. Geurtsen outlined Neptune Energy's plans to remove three platforms in the L10 field – L10C, L10D, and L10G – and explained that removal contractor Boskalis had been given a flexible window from mid-2018 until late 2019 to remove the facilities, using the company's new heavy-lift vessel Bokalift 1. Agreements such as this allow operators to perhaps take advantage of better pricing and allow contractors more flexibility with vessel schedules, particularly if working across other markets such as renewables.
The role of the engineering, preparation, removal, and disposal (EPRD) contractor in decommissioning projects was also emphasised by Ronald van Waaijen of Heerema Marine Contractors, who called for operators to rely more upon contractors' procedures – and also consider more innovative contracting models that "incentivize contractors' creativity and benefit from their flexibility".
However, innovation in removal contracting is not only being driven by heavy-lift companies. Delegates at the congress also heard from Jens Klit Thomsen, Chief Commercial Officer of Maersk Decom – the newly named joint venture between Maersk Drilling and Maersk Supply Service, established earlier this year to provide turnkey and packaged decommissioning solutions.
While Thomsen also emphasised the importance of flexibility in removal contracting, from reimbursable to turnkey, he also explained how allowing a contractor freedom and flexibility enabled innovative solutions to be found – for example, using an anchor handler winch to reel up a flowline on a recent project in the United Kingdom.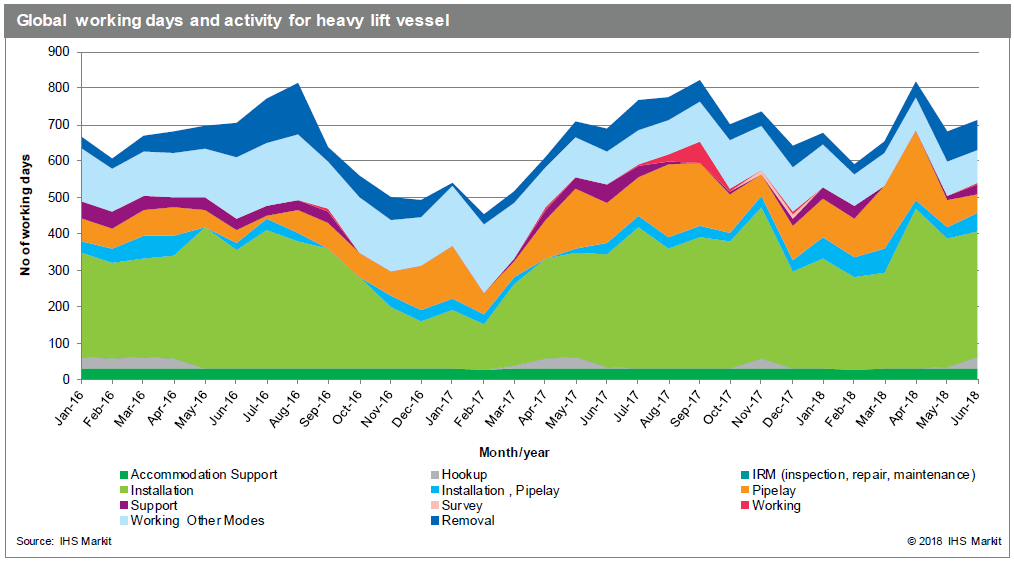 If Nexstep's predictions prove correct, over the next decade, the Netherlands is facing a considerable challenge as it prepares not only for two-thirds of its oil and gas infrastructure to be decommissioned or reused, but also a transition to a sustainable energy supply. The organisation has set itself ambitious goals, not only with cost savings, but also with exploring the reuse of infrastructure, and how that might be integrated with ongoing offshore wind projects in Power-to-Gas initiatives. The times – and energy supply – are changing and Nexstep aims to be at the forefront of this.
Join us at the Offshore Decomissioning Contracts & Operations Seminar - a two day event designed to help you navigate the legal minefield of offshore decommissioning projects.