The morning sessions were focused on the definition of
corporate intrapreneurship and the qualities of people who aspire to become
entrepreneurs in large companies. Although the definition part remains a bit
fuzzy (all four participants of the corresponding panel used somewhat different
words to define who intrapreneurs are), pretty much everyone agreed on the
characters true intrapreneurs must display: creativity, independence, empathy
and desire to take risks.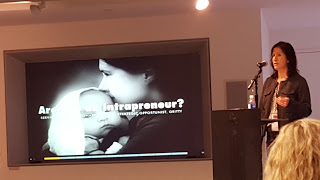 Three case studies (presented by innovators from SAP,
Liberty Global and ExxonMobil) showcased the benefits of corporate intrapreneurship
can bring to organizations and the difficulties they meet when launching
corresponding corporate programs.
An interactive working session moderated by Innovation Loft
was designed to outline the challenges entrepreneurs themselves face in their
organizations. Among those, the most frequently mentioned were the difficulty
to align their projects with the corporate business strategy, the lack of
executive leadership and, not surprisingly, funding.   
About the Author: Eugene Ivanov is helping organizations of different sizes design and implement internal and external innovation programs. He's an expert in selecting and defining R&D problems that can be successfully solved by crowdsourcing. He writes blog Innovation Observer and tweets @eugeneivanov101.