At
Back End of Innovation
#BEI13, yesterday
40 of us
visited
Intuit's @IntuitInc headquarters and had a delightful time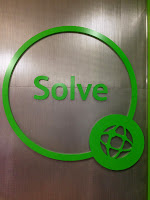 discovering how Intuit thinks
about innovation.

Over the last five years Intuit has knitted innovation into
the core fabric of the company using Intuit's innovation driving process
'Design for Delight', aka, 'D4D.'
Using
Design Theory
as an innovation process through their
D4D
approach, Intuit has created an
organic innovation organism acting as a company.
What was once a organization that focused on 'fixed'
products being shipped based on customer research serving the interests of the
performance engine which is an on going business, has become a customer
centered, iterative trail and error, deep customer emersion driven innovator
improving customers' lives so profoundly that customers can't go back to their
old ways because of the experience of change the customer has felt.
Human centered. Inspired. Design centered'D4D.
Design for Delight'D4D distills down to Going Beyond'Don't just give customers what they ask for, aim to go
far beyond their expectations.  Seek inspiration from many different
places, from comparable industries to extreme perspectives.
Intuit's D4D's three
operational pillars are:
v
Deep Customer Empathy
o  
Live the experience of the customer through
their eyes'Follow them home
o  
Discover something new that is so surprising, it
makes you think differently about the customer and our opportunity to serve
them
o  
Clearly articulate the problem or opportunity in
the customer's words and free of a solution
v
Go Broad to Narrow
o  
Go broad''Seven to Get One''with many options on
problems as well as solution ideas
o  
Purposefully choose the uncomfortable option so
we can learn quickly
o  
Let great ideas go because they don't solve the
problem or opportunity in the most DELIGHTFUL ways.
v
Rapidly Experiment with Customers
o  
Experiment to learn, not to prove our idea is
the right one
o  
Spend more time experimenting with customers
than sitting in a room deciding what to do.
o  
Prototype Everything'solutions, problems,
opportunities
At Intuit these aren't just words.  They've folded into their culture over the
last five years, with   They've designed 'method cards' as rubrics
for innovation.  They've iterated the
process, applying the same process to the company's innovation process that
they apply to their innovative products.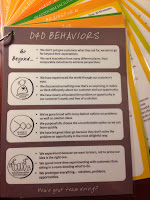 training over 180 Innovation Catalysts within their
organizations where these sparks of innovation help facilitate the D4D
behaviors across Intuit's 10, 000 employees all across the globe.
Intuit has taken design thinking and re-cast the company's approach
to innovation and breakthroughs through D4D.
Simply delightful. 
Paul Ruppert is a senior executive in the mobile industry having been
responsible
for new product innovation, development and launch; revenue driving and
globilizing markets within startups, fast moving large service providers
and Fortune 50 companies. He's driven over $300 million in revenues
over the last decade, and is a co-author of a patent enabling SMS to go
around the corner or across the globe. He blogs at www.globalpointview.com and tweets @mobilepointview .  He is one of the "Official Bloggers" for the Back End of Innovation conference.