Those of us who came to the Back End of Innovation Conference, #BEI13, looking for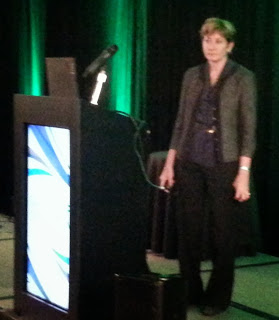 strategies and techniques for successfully implementing innovative ideas were rewarded with Maria B. Thompson's comprehensive and generous talk on 'Directed Innovation Methods to Successfully Move from Ideation to Implementation.'  Thompson, whose LinkedIn profile reads "Innovation Instigator | Inventor Mentor | Creativity Coach | Patent Professional | Change Champion | TRIZ Tipster," shared Motorola's complete soup-to-nuts innovation process, which they call "Directed Innovation."
Directed innovation is a process that combines a number of innovation practices at each step. Thompson shared a wealth of techniques for each phase, drawing on a number of innovation methods, but combining them into an organized workflow.
The nine steps that Thompson laid out are: 
1. Get senior management sponsorship
2. Use an experienced Directed Innovation (DI) facilitator
3. Identify high-value problems of the future
4. Conduct problem storming
5. Generate questions bank
6. Select diverse participants for ideation
7. Use the question bank to ideate in pairs
8. Combine, evaluate, and eliminate ideas
9. Generate metrics
A key component of Motorola's innovation model, one that is too often overlooked, is the identification high-value problems. Motorola uses design thinking and user observation, including ride-alongs and other qualitative techniques to truly identify problems from the user perspective. Thompson spoke about the importance to articulating problems and not rushing to solutions. Acknowledging that we all love to solve problems, Thompson shared with us a powerful Einstein quote: 
"The mere formulation of a problem is far more essential than its solution, which may be merely of mathematical or experimental skill. To raise new questions, new possibilities, to regard old problems from a new angle, requires creative imagination and marks real advances in science.'   --Albert Einstein
Imagination comes from reframing the problem multiple ways as well. 'People weren't coming back with problems; they were coming back with solutions,' said Thompson 'We all want to solve problems.' The practice is known as 'problem storming' and includes tools such as TRIZ, which is the acronym for 'Teoriya Resheniya Izobretatel'skikh Zadach' or the "Theory of Inventive Problem Solving." G.S. Altshuller and his colleagues in the former USSR developed the method between 1946 and 1985. TRIZ is an international science of creativity that relies on the study of the patterns of problems and solutions. 
Generating questions is also known as 'Assumption Storming.'  The Questions bank is all about assumptions and limitations. Question Banks are organized topical collections of questions that inspire diverse, creative and innovative thinking to achieve goals, overcome  challenges, or solve problems.  Thompson shared a wealth of tools for generating questions, including a copy of the 'Provocation Tool,' a fishbone-diagram-like worksheet that encourages participants to continue probing with questions.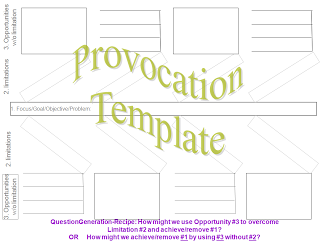 TRIZ includes 40 inventive principles that can be used to look at problems/questions in new ways to generate ideas. One of the major activities researchers should focus on is looking for contradictions and design-arounds. What are the contradictions that consumers face? For example, in looking at purses (an example Thompson used), a contradiction would be 'I want a small purse, but I want to carry a lot of things.'  A design-around might be''I need ready access to my smart phone, so let me add an external pouch to my purse with Velcro.' Inventors don't accept compromises; they resolve contradictions by the equivalent of having their cake and eating it too. This is also known as 'busting constraints.' 
Ideation, which happens during face-to-face sessions, consists of the 'triplet' of a problem statement, constraint, and opportunity space.  Participants in Thompson's sessions have helpful worksheets to record ideas. Once several worksheets are filled out, the team will look for themes that resonate or are especially compelling. Thompson finds that handwritten inputs and outputs are more effective during sessions than capturing insights online. During these sessions, the innovators are scribes, and subject matter experts ( SMEs) as well as patent attorneys are on hand for concept evaluation. [Note: Thompson directed participants to her LinkedIn profile, which includes presentations that can be viewed or downloaded.] 
Breakthroughs come at the very end of the day when they are exhausted. Thompson's final words of advice were 'If you want to become an inventor, read the patents. Everyone wants to describe their idea. What they need to do is describe the problem they are solving.'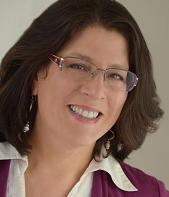 Ivy Eisenberg is founder of Our IdeaWorks, an Innovation and Lean Customer Research' consultancy that helps companies connect to customers and other stakeholders to discover business opportunities, accelerate growth, and build and deliver successful products and services.  Ivy has more than 25 years of experience in the Front End of Innovation, user interaction design, and software product and project management. She has worked in healthcare, financial services, B2B, consumer goods, and telecommunications sectors.  Ivy is also an award-winning humor writer and storyteller, with an MBA in Marketing, Entrepreneurship and Innovation from NYU's Stern School of Business.