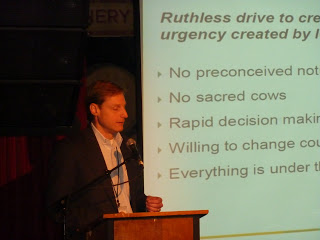 Ted Arnstein, Senior Vice President, Corporate Development, NXP Semiconductors
Ted mentioned that NXP Semiconductors was able to rise from a downfall by dropping several business units which were not successful. They decided to change their structure from dogmatic to a more creative one.
NXP also looked for non-monetary sources of value such as equity, revenue-sharing, cost avoidance, and enhanced business opportunities. NXP took a non-marketable asset, which was a product development facility in France, and took a different look at it. NXP decided to market it as a solution as opposed to a facility and the result of this was massive venture capital backing.
What are some other examples of recent spin outs on businesses which have proven to be very profitable for companies?