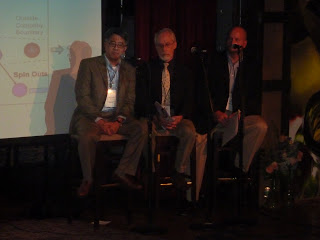 Panelists:
Lawrence Lee, Director of Business Development, PARC (Palo Alto Research Center)
Blaine Childress, Research Scientist, Open Innovation, Sealed Air Corporation
Galen R. Hatfield, Vice President, Strategic Initiatives, RTI International
Here are 2 questions which were asked to the panel below:
Q: How does your company get around sharing capabilities and risk rewards with outside companies?
Blaine - We're still early in the process but we began to get brickwall projects. We know they are important to the business unit and we have tried do conduct campus meetings and brainstorming sessions but still hadn't gone anywhere. If you think the project can still be done then but just not internally, then you have to step outside your comfort settings and partner with outside organizations.
There is one example where we posted a specific problem and got 36 responses. So we had the chance to choose the best 5 that were most important to us.
Q: How would you open up the dialogue with outside partners?
Galen - RTI lives and breathes on the RFP process and it the basis for how we get our business. RFPs can slowly drift away from what the intent originally is so you have to structure an abstract and be very generic in your description. Don't use jargon and terminology that is too specific to your company.