Hacker economics, how not to make yourself a target, and keeping Kevin in a white hat
Kevin Gosschalk, Founder, Arkose Labs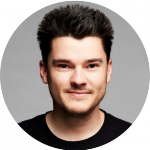 Kevin is an innovator in the Security industry using technology to bankrupt the business model of fraud. He founded Arkose Labs to address user pain points stemming from automated threats operating at scale on public websites.  Leveraging his background in interactive machine vision technology, Kevin developed a new, innovative solution rooted in prevention, not mitigation, to truly stop abuse before it occurs. Kevin designed a bilateral approach that combines global telemetry with a patent-pending enforcement challenge. This dynamic feedback loop allows Arkose Labs to validate suspicious traffic and to train against serving enforcement to legitimate users, which guarantees no false positives and minimal friction for users.
Three years after founding Arkose Labs, Kevin raised a Series A funding round from US Venture Partners in September 2018 and secured a strategic investment from PayPal in November 2018. With offices in Brisbane and San Francisco and a staff of more than 50 employees, Kevin has also secured influential members for his advisory board including Robert Hansen, former head of trust and safety for eBay; Matt Thomlinson, SVP and CISO at Electronic Arts (EA); Chad DePue, director of engineering at Snap, Inc.; Christopher Hymes, head of information security at Riot Games; and Jeremiah Grossman, security industry pioneer and founder of WhiteHat Security. Notable customers include Electronic Arts, Singapore Airlines, Roblox, Q2 eBanking, Kik.
Missed the last episode? Catch up now...