The benefits of showing (not telling) at Finovate, empowering your CX agents to do their best work, and Dan's personal search for great experiences as a customer
Dan Michaeli, CEO, Glia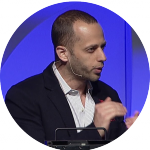 Glia began in 2011, when our founders were counting pennies for a Fortune 50 retailer. As growth and operational consultants, they were brought in to help a firm client compete against e-commerce rivals via incremental price optimization; essentially, a cent here and a cent there. It didn't take them long to realize that this was a losing proposition for several reasons, not least that the client's competitive advantage was its superior in-person customer experience in both sales and service. Wouldn't it be better, they wondered, if the client could use technology to leverage that same advantage online?
From those roots did Glia spring, and from the start our focus has been on delivering a product that combines technology with a human touch to give our clients a demonstrable edge in high-touch customer experience. Creating a streamlined, unified platform required highly sophisticated technology, so we built ours from the ground up, with funding from tech visionary Pete Ellis and other investors, including Tola Capital. Today, Glia's optimized solution allows leading institutions and enterprises to easily and meaningfully connect and communicate with their customers.
Missed the last episode? Catch up now...