Technology is at the forefront of economic progress, and reaches every part of the economy, directly or indirectly. As global power-blocs dynamics evolve, some areas of technology are naturally seen as strategic by governments. They represent an important component to either the security aspects and/or the enhancement of competitive advantages that a country might achieve. It is therefore easy to understand that these areas are captured within geopolitical considerations, which can lead to tensions at that level spilling over into corporates exposed to these segments of technology. In any case, they are important matters for investors to consider as part of the risk assessments. Zehrid Osmani, Head of Global Long-Term Unconstrained, Martin Currie (a Franklin Templeton Specialised Investment Manager) discusses three key areas to keep an eye on.
Semiconductors and 5G capabilities
The semiconductors industry is an important and geopolitically critical segment within technology, as is 5G telephony, as we have seen with the issues arising from the Chinese telecoms equipment market, with Huawei being forbidden by some western governments to supply equipment to certain geographies. On the 5G telephony front, the world is moving from convergence that was achieved with 4G, to divergence in 5G telephony. This has the implication of loss of scale economies and therefore efficiencies, in a segment of telephony that is forecast to grow at an annualized rate of +56% to 2030, as illustrated below.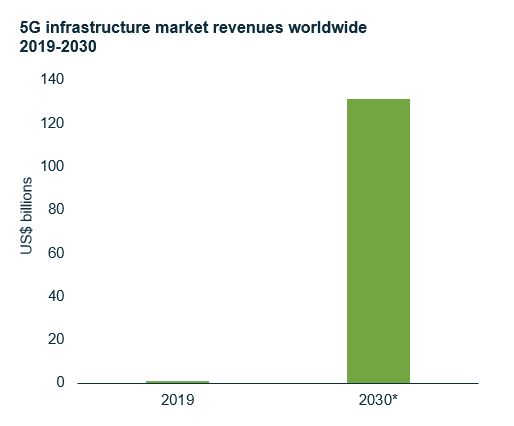 NMSC. "Size of 5G infrastructure market worldwide in 2019 and 2030 (in billion U.S. dollars)." Chart. July 22, 2021. Statista Inc.. Retrieved September 20, 2021, from https://www.statista.com/statistics/1256267/worldwide-5g-infrastructure-market-revenues/
With China putting a strong emphasis on the semiconductor sector as an area of important strategic investment, and with the aim to close the technological gap that it suffers versus Western nations, we believe that it is important for investors to also reflect on the potential developments that could affect this segment of the tech industry.
In this segment again, there is likely to be increased inefficiencies and reduction in scale benefits. Specifically, Taiwan, through its leadership position in the semiconductors manufacturing field, is an important geopolitical epicentre, given China's territorial claims and ambitions. We note that many Western governments are keen to have TSMC open additional productive capacity on its own territories, whether it is the US, Europe, or Japan. This has the direct implication of increasing capex intensity for TSMC, and reducing scale economies through the more fragmented production sites as an outcome. Whilst some of this is being and is likely to be mitigated by governmental subsidies, it is still a sub-optimal situation economically in our view. At the same time, it opens additional opportunities to some parts of the ecosystem, notably the suppliers to the semiconductors manufacturers, who will need to ship similar components and equipment to multiple production sites.
Quantum Computing
Quantum computing, whilst more nascent in its opportunity curve, carries a similar important geopolitical aspect, given that it is at the leading edge of computing power. This advanced technology will have implications in terms of processing speed of complex data, code breaking, notably sensitive codes, and national safety. We expect this segment to have significant investment opportunities and growth potential, but also to be encountering significant regulatory constraints that will both shape the nature and speed of development and progress made in this field. This area has the potential to be very disruptive to some existing businesses in the long term, especially within the semiconductor's ecosystem. Although, we also believe that the interim implication of an enhanced need for semiconductors, is actually very positive in terms of growth opportunities. Quantum computing is forecast to grow at an annualized rate of +43% over the next 10 years, and therefore offers an attractive structural growth opportunity for investors, as can be seen below.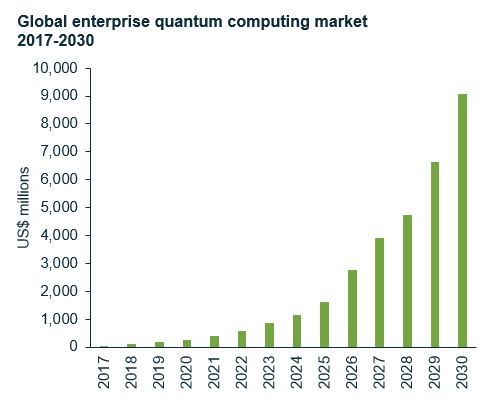 Tractica. "Size of the enterprise quantum computing market worldwide from 2017 to 2030 (in million U.S. dollars)*." Chart. November 4, 2019. Statista.. Retrieved September 20, 2021, from https://www.statista.com/statistics/962845/global-enterprise-quantum-computing-market/
Natural resources and alternative energy
Finally, natural resources have always been and will remain an important focal point for governments, given the important geopolitical considerations at stake. This focus is likely to further intensify as resource scarcity, notably in the food and water areas, gets amplified with growing population needs.
In addition, the focus on decarbonizing economies pushes for investments into alternative energy, and therefore away from fossil fuels. Electric transportation, and the need for more battery power, will also lead to a focus on some specific materials, including the so-called rare earth minerals, which also may shift the geopolitical epicentre  (given that China has some of the largest supplies on earth).
All in all, there are growing geopolitical considerations to take into account when assessing investment opportunities in some of the technology, telecoms and electric transportation areas, which investors need to carefully consider, and incorporate in their risk/reward assessments.
Find out more about Franklin Templeton at this year's FundForum International, returning to the Grimaldi Forum in Monaco, 20 - 22 October 2021.