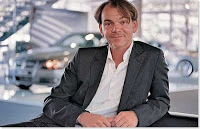 Every Wednesday leading up to the event we will be profiling a new keynote speaker for the Front End of Innovation Europe 2010 Conference in Amsterdam. Today, we're profiling the Director of Design for the BMW Group, Adrian van Hooydonk.
Adrian van Hooydonk is a Dutch car designer currently working as BMW's Chief of Design. Before assuming the position in 2006, he was the President of BMW's Designworks USA studio in California eventually becoming the protege of controversial designer (and former BMW CoD) Chris Bangle, who has since become the Director of Design for the entire BMW group (including its subsidiaries Mini and Rolls-Royce. He studied at Delft University of Technology in Holland, and later at the Art Center Europe in Vevey, Switzerland, until 1992.
As the Director of Design for BMW he oversaw many projects including this BMW Vision EfficientDynamics Vehicle. Take a look below!
Make sure not to miss Adrian's session at FEI Europe The Future Sustainability and The Joy of Mobility and BMW's LIVE unveiling of their new concept car! Hope to see you all there!