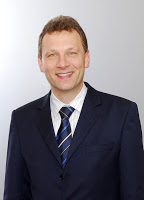 FEI Europe 2011 Speaker Spotlight Carlos Haertel

Carlos Haertel
Managing Director, GE Global Research Center Europe
Keynote: Balancing Risks and Opportunities in Collaborative R&D
GE Global Research
Carlos Haertel is the Managing Director for the Global Research Center in Europe, GE's multidisciplinary research facility in Munich, Germany. Dr.-Ing. Carlos Haertel was named as the new Managing Director of the GE Global Research Center Europe in June 2007. In his previous position, Dr. Carlos Haertel managed the Laboratory for Alternative Energies at the Global Research Center Europe. He joined the company in 2003 and established a research team consisting of 25 employees.
Dr. Haertel played a key role in establishing partnerships with universities and companies and developed the scientific cooperation with various divisions of GE.
Prior to joining GE, Dr. Haertel held positions as scientist and manager in the development of gas turbines at Alstom (Schweiz) AG. He studied mechanical engineering at RWTH Aachen and at the Technical University of Munich. He received a doctorate from the Deutsches Zentrum f'r Luft- und Raumfahrt (German Aerospace Center), G'ttingen, and spent several years in research at ETH Zurich, where he qualified as a university lecturer in 1999. Dr. Haertel owns several patents and has published over fifty scientific papers.
As Managing Director, Dr. Haertel's main areas of activity will be the continued expansion of the research center, as well as the growing collaboration and interaction with European research partners
Here is an interesting video where Carlos explains a new collaboration that puts GE's waste-heat recovery technology in the field.
Bio courtesy of http://ge.geglobalresearch.com/about/leadership/carlos-haertel/
Make sure not to miss Carlos's keynote session Balancing Risks and Opportunities in Collaborative R&D GE Global Research at FEI Europe 2011 in Berlin March 2-4, 2011. Hope to see you all there!