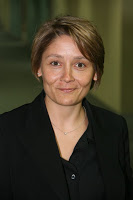 Kristel Van der Elst, Director, Head of Scenario Planning and Global Risks Team World Economic Forum
OPENING KEYNOTE: Global Risks and New Realities

Master's in Commercial Engineering, Belgium; postgraduate degree in Development Cooperation, Belgium; MBA, Yale School of Management, US: Fulbright Scholar and Rotary Foundation Ambassadorial Scholar.
Formerly: experience in consulting and business managing large, multi-departmental projects and developing marketing strategies; 1997-2000, with Belgacom, Belgium; 2002-05, with Greenwich Consulting, France; since 2005, with World Economic Forum: responsible for global multi-stakeholder, cross-industry scenario projects; facilitates high-exposure workshops bringing together industry leaders, academics and government representatives; leads Global Agenda Council on Strategic Foresight.
Don't miss Kristel's opening keynote: Global Risks and New Realities at FEI Europe 2011 in Berlin March 2-4, 2011. Hope to see you all there!
Bio courtesy of World Economic Forum
http://www.weforum.org/contributors/kristel-van-der-elst?fo=1