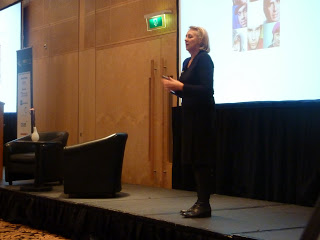 Presenter: Josephine Green, Senior Director Trends and Strategy, Philips Design
Josephine Green began her presentation with this quote 'we are going through of change of age and I believe that innovation is also changing.' Innovation is taking place all over the complex world at all stages and so is there a front end of innovation? The way we engaged with the future in the 20th century is different from how we will engage the future in the 21st century. She believes that social innovation will be the focus of the 21st century because that is what we need.
In the 20th century we supplied people with all the technology and industrial needs for consumers. It was based on mass production, mass consumption, and higher profits. The 20th century was based on raising profits through mass consumption.
When we journeyed into the 21st century consumers changed their values, beliefs, and lifestyles. New consumers are not passive because they are taking in consideration how different people live across the globe. People have been enabled by technologies to be more innovative and creative than before. In the 20th century natural resources were depleted and used to the maximum, but now conditions have changed and have already changed the way we use our natural resources.
The age has changed from the techno-market area to what Josephine calls the socio-ecological age. The new age is based on complexity and chaos, and this is the world that is not predictable and is not linear.
So the big question seems to be...How do we kick start the future?
Here are some of Josephine's suggestions:
- Embrace new stories: New ideas that can lead us out into the otherside, towards a new way of acting and thinking in the new world.
- Find a new development model - find to alternatives to the GDP metric such as the Index of social and economic welfare. We need to figure out a new way to measure progress in the modern world.
- New economics (beyond growth) ' new production and consumption (beyond big)' new lifestyles (beyond materialism) ' new social industries (beyond product)
In the 20th century we centralized innovation, we need to start thinking about distributing innovation because its about community, systems, and people.
We need to develop solutions with communities and stakeholders and not develop solutions for communities.
Check out the footage of her Q&A session below.