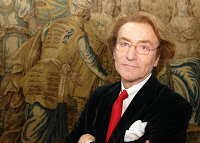 Dr. G. Clotaire Rapaille
President and CEO,
Archetype Discoveries Worldwide
Dr. G. Clotaire Rapaille is an internationally known expert in Archetype Discoveries and Creativity. His unique approach to marketing combines a psychiatrist's depth of analysis with a businessman's attention to practical concerns. He has written more than ten books on these topics. One of his books, Creative Communication, has become the standard reference for the French advertising industry. He is a sought-after lecturer on creativity and communication.
Dr. Rapaille's technique for market research has grown out of his work in the areas of psychiatry, psychology, and cultural anthropology. His work is an extension of the work done by many of the great scholars of the twentieth century, including Jung, Laing, Levi-Strauss, and Ruth Benedict.
Dr. Rapaille's psychiatric work and research with autistic children led him to develop a new process for understanding how children are imprinted for the first time by what he calls the Logic of Emotion, which is the code of each Cultural Archetype in the collective unconscious of a given culture.
Dr. Rapaille's world travels, a term in the diplomatic corps, and extensive marketing research on product archetypes for international corporations, have given him a fresh perspective on American business and American society. He received a Masters of Political Science, a Masters of Psychology, and a Doctorate of Medical Anthropology from the Universite De Paris - Sorbonne. He is fluent in English, French, and Spanish.
Dr. Rapaille has taught at Sorbonne University, Paris, France; St. Ignace, Antwerp, Belgium; Esade, Barcelona, Spain; INSEAD/CEDP, Fountainbleau, France; Thomas Jefferson College, Michigan State University, Michigan, USA; CPSI, New York State University, Buffalo, NY, USA; Geneva University, Switzerland; University of California - Los Angeles (UCLA), Los Angeles, California, USA; HEC/ISA (Business School), Paris et Jouy en Josas, France; Medical School UNAN, Managua, Nicaragua.
Don't miss Dr. G. Clotaire Rapaille's keynote speech Innovation Is Only Successful When It Is 'On Code' at the Front End of Innovation Conference this May in Boston. Hope to see you all there!