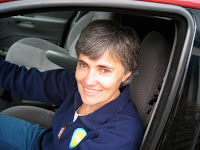 Robin Chase
Founding CEO
Zipcar, and GoLoco
Robin Chase is founder and CEO of GoLoco, an online ridesharing community. She also founded and leads Meadow Networks, a consulting firm that advises city, state, and federal government agencies about wireless applications in the transportation sector, and impacts on innovation and economic development. Robin is also founder and former CEO of Zipcar, the largest carsharing company in the world.
She is on the Board of the World Resources Institute, and the World Economic Forum Future of Transportation Council. She served on the Massachusetts Governor's Transportation transition team, and the Boston Mayor's Wireless Task Force. In 2009, she was included in the Time 100 Most Influential People. Robin lectures widely, has been frequently featured in the major media, and has received many awards in the areas of innovation, design, and environment. Robin graduated from Wellesley College and MIT's Sloan School of Management, and was a Harvard University Loeb Fellow.
Don't miss Robin Chase's keynote speech More Meadows at the Front End of Innovation Conference this May in Boston. Hope to see you all there!
Bio Courtesy of Robinchase.org