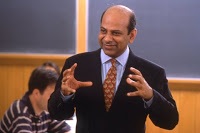 Vijay Govindarajan
Founding Director
Tuck's Center For Global Leadership
Vijay Govindarajan (www.vg-tuck.com) is widely regarded as one of the world's leading experts on strategy and innovation. He is the Earl C. Daum 1924 Professor of International Business and the Founding Director of the Center for Global Leadership at the Tuck School of Business at Dartmouth College. He is the 2009 Professor-in-Residence and Chief Innovation Consultant for General Electric. He has been recognized by BusinessWeek, Forbes, and The London Times as a top thought leader in the field of strategy. He works with CEOs and top management teams in Fortune 1000 corporations to discuss, challenge, and escalate their thinking about strategy. He is the co-author of the best selling book, Ten Rules For Strategic Innovators: From Idea To Execution, which has been rated by The Wall Street Journal as a 'Top 10 Recommended Read'.
Don't miss Vijay Govindarajan's keynote speech Moving Beyond the Core: New Business Model Creation at the Front End of Innovation Conference this May in Boston. Hope to see you all there!
Bio courtesy of Tuck