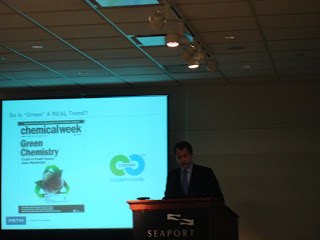 Front End of Innovation US has officially kicked off in the societal factors track with opening remarks from Tavor White, Director at PRTM. Tavor set the pace for the tracks giving a brief overview of what to expect from the upcoming tracks and then begins his opening by mentioning how states like California are pushing forward towards green innovation, especially with the recent legislation passed by California state governor Arnold Schwarzenegger. This represents a whole new way of doing business.
According to Tavor White, green chemistry is expected "spur economic growth and job creation." Dow Chemical is an example of a company using this concept. This is the next frontier to make everyday lives safer and easier.
China is among the leading countries that have used green innovation to its advantage. Tavor mentioned that China can build a plant for a third less than the US currently can. Tavor closes his remarks by mentioning "societal factors are all working together to innovate."
Updated: