By: Christina
Luppi, manager, Sentient Decision Science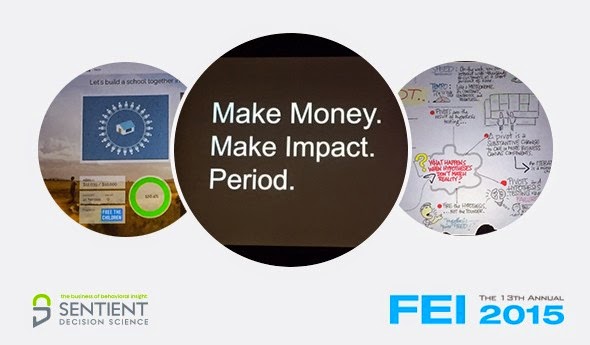 Our experience at 
FEI 2015
 was all about
disruption: disrupting industries, disrupting businesses, disrupting corporate
culture and learning to deal with disruption as an existing business!
We heard from some dynamic speakers who delivered
thought-provoking, insightful, and emotional presentations on the changing
business environment. Here's a recap of some of the sessions that inspired us
at Sentient:
Exponential
Organizations, Salim Ismail
Singularity University
's Global Ambassador and Founding
Executive Director, Salim Ismail, started the morning off with an in-depth look
into exponential organizations and how they're disrupting industries around the
world. These companies are being driven at a speed far greater than what was
previously accepted as the norm for innovators by harnessing the power of
technological advances.
'Interesting stuff lies ahead'' says Salim, referencing
things like Google's self-driving car which has the potential to affect
everything from road capacity to real estate values, as well as agricultural
advances like vertical gardening in drought-stricken areas and crowd-sourcing
sites that utilize advances in social media and internet availability to allow
consumers to fund the development of products that they want to see in the
market.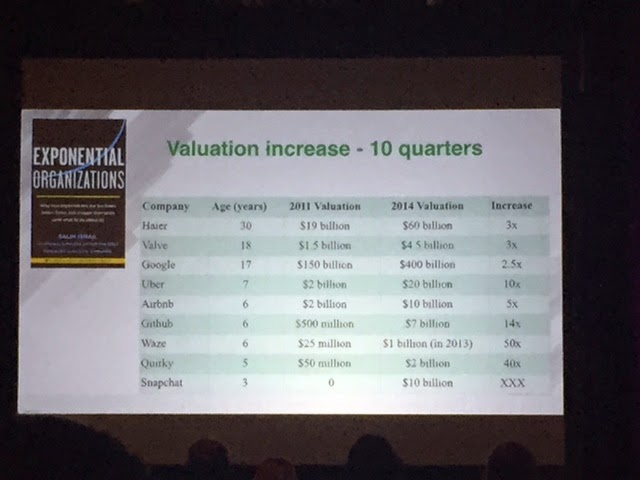 Dealing with
Disruptive Innovation, Steve Blank
Steve Blank, author, professor and serial entrepreneur,
presented his business model for empowering established corporations to compete
with lean startups by establishing innovation teams within those corporations
that act like startups themselves. 'What you're doing is not what the rest of
your company is doing,' Steve says of these innovation teams.
Innovators need to focus on the customer development
process. Make a hypothesis and then 'get out of the building' he tells us.
'Talk to customers, partners, and vendors' and begin testing your hypothesis,
then be ready to 'pivot' when the hypothesis doesn't match the reality. The
ability to take advantage of the agile nature of a start-up is the driving
force behind the success of these innovation teams.
Experimenting at the
Edge, Carin Watson & Kyle Nel
Carin Watson from Singularity University and Kyle Nel of 
Lowe's Labs
 provided
an interesting half-presentation/half-casual discussion of their collaboration
and innovative work at Lowe's.
We learned that Kyle looks for 'people who are difficult to
manage' to be on his team. Not because they're bad employees but rather
because they're 'all consumed with what is in their head, and they just have to
get it out.'
Some of the innovation that his team has produced includes
the delivery of an innovation strategic plan to his executive team in the form
of a comic book, hardware image detection so customers can hold a screw up to a
sensor and be directed where to find it in-store, and 3D printing.
Illuminating the
Consumer, Simeon Chow & Matthew Singer
This presentation by Simeon Chow of 
Altria Client
Services
 and Matthew Singer of
Egg Strategy
 showed the audience how they utilize
passive image capturing (PiC) devices to try to circumvent the '
can't
say, won't say
' issue that is inherent with explicit research methods.
The wearable cameras take photos at thirty second intervals
and document a day (or days) in the life of the consumer, helping their
ethnographers to see the path from purchase to consumption and all of the
moments before and in between. This improves over self-guided smartphone
'ethnography' which is still subject to a conscious filter with consumers
deciding what and when to take photos.
Two issues arose in the discussion around the scalability of
analyzing thousands of photos into coherent stories, and the continued reliance
on self-reported interpretation of the moments from participants. With such a
great passive observation technique, we see potential for adding 
true implicit
measures
 as means for understanding the motivators behind the behavior
being observed.
Disruption for the
Greater Good, Taylor Conroy
The CEO of 
Change Heroes
, Taylor Conroy, spoke to an engaged crowd
about how he combined the power of social media with behavioral science
principles to change the world. 'Business is a tool for social good,' Conroy
says, inspiring everyone in the room.
Change Heroes provides a platform for individuals to create
'campaigns' in which they decide what project they want to fund and where, then
they utilize technology and social media to share their campaigns within their
networks.
The audience was so motivated by Conroy's presentation that
FEI 2015 attendees decided then and there to start a campaign and build a
school in Ecuador, and we achieved our goal less than an hour after he left the
stage!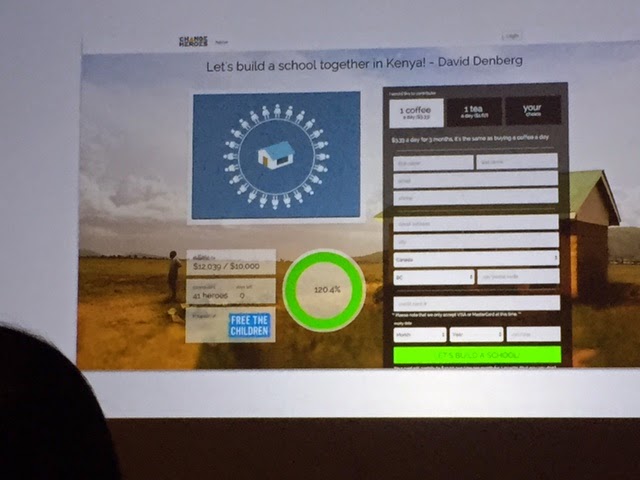 A Quiet Revolution,
Susan Cain
Susan Cain, the author of the New York Times bestseller
'Quiet' took the stage to teach us how we can empower the introverts in our
organizations to make big impacts. Susan began her presentation by reminding us
that 'There's no such thing as a one size fits all work environment.'
'In a typical large meeting, 3 people do 70% of the talking'
If you really want to know what your people think, give them some time alone,'
she says. 'We need a mind shift in our culture to make these things more
allowable.'
Susan suggests companies encourage their employees to take
walks, meditate, and even nap in order to allow the introverts among them the
time and space to recharge their batteries and spark new ideas.
#FEI15 Final Thoughts
We walked away from the conference with new ideas for
partnering Sentient Decision Science's 
implicit
research methods
 with some of the other innovative products and
services that we saw throughout the day.
While we heard how difficult it can be to predict what new
products will be successful, we also continually heard from attendees how
relevant 
Sentient
Prime implicit association technology
 is as a solution for developing
disruptive front end innovation. Perhaps most importantly, our
interactions with this creative group and the disruptive ideas expressed by the
speakers provided valuable inspiration for the Sentient team.
Big thanks to the IIR team for putting together such an
influential group of speakers and organizing this great event! We're already
looking forward to the disruption FEI 2016 will bring!