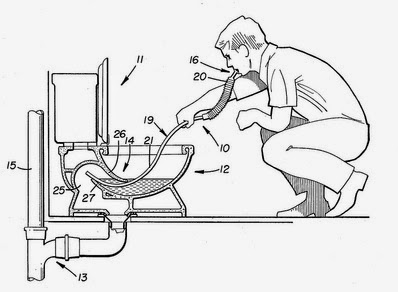 Customer Needs and Innovation Goals
Customer needs should be made the starting point for any product or service innovation. Failing to do so may result in an offer that will be unsuccessful in the marketplace. Studies have shown that the majority of innovations are commercial failures, and the US Patent Office estimates that more than 90% of all patents have no commercial value (including, presumably, the breathing system for use during hotel fires shown in the image.)
Different types of innovation require different types of information about customer needs, and different techniques for interviewing customers have been developed accordingly. For example, a company that is looking for radical or disruptive innovations needs to learn about customer goals. Product improvements are guided by the
Kano model
, which has its own specific questioning technique for eliciting customer satifaction with product attributes.
Incremental innovation is concerned with existing products. The goal may be to make improvements, create new variants or introduce complementary offers. In order to determine fruitful areas for developing ideas there are four core questions, the answers to which can be used as a guideline for an ideation workshop. These four questions can be easily remembered with the acronym RATE.
The Four RATE Questions
Reasons.
For what reasons did the customer buy our product in the past? For what reasons did we lose a sale? Are the reasons given rational/economic or emotional/political?
Attributes. In the opinion of the customer, which attributes or functions must our product possess? Which would be nice to have? Which belong to the don't-care category? (This is the what the Kano model is used for.)
Tasks. What tasks are our customers trying to perform using this product? What are they trying to achieve and how do they describe success? (This is what job statements and outcome statements are designed to do.)
Evaluation. What criteria do our customers use to make their purchase decision? What is their relative importance? How did our product (and the competitors' products) perform according to these criteria?
Application
Accurate answers to these questions can greatly contribute to understanding customers and thus give pointers for incremental innovation goals, such as:
Increase the performance of a certain function.
Correct a low score with respect to a particular evaluation criterion.
Add a missing attribute.
Improve the product's ability to perform a given task.
Introduce complementary offers to cover additional aspects of the customers' tasks.
Enhance a specific advantage compared to the competition.
Compensate for a specific disadvantage compared to the competition.
* Image source: http://www.google.com/patents/
About the Author