With "smart immigration" still in the headlines, the Ewing Marion Kauffman Foundation is offering a free ebook to help more people understand the issues related to immigrant entrepreneurs and how current policies affect this important economic force in America.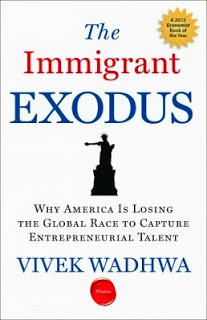 In his pivotal book, The Immigrant Exodus: Why America Is Losing the Global Race to Capture Entrepreneurial Talent, Vivek Wadhwa, Director of Research, Center for Entrepreneurship and Research Commercialization and Exec in Residence, Pratt, School of Engineering, Duke University, Vice President of Academics and Innovation, Singularity University, and Front End of Innovation 2013 Keynote, draws on fifty years of research and his Kauffman Foundation report, "America's New Immigrant Entrepreneurs - Then and Now," to show that growth in immigrant entrepreneurship in the United States has peaked, is stagnating, and is on the verge of decline.
This looming decline is historically unprecedented, and has huge implications for the already-ailing U.S. economy.
You may recall, Vivek's FEI keynote address: Where the Trillion Dollar Opportunities Lie, where he observed that while many argue that innovation has peaked, that the best days of humanity are behind us -This couldn't be further from the truth. This will be the most innovative decade in human history. And the next decades will be even more so.
A range of technologies are rapidly evolving and converging that will make it possible to solve some of the world's grand challenges. Advances in fields such as robotics, AI, computing, synthetic biology, 3D printing, medicine and nanomaterials are allowing small teams to do what was only once possible by governments and large corporations. Vivek discussed why he believes that a world with abundant energy, food, and water is possible, detail some of the advances, and discuss the opportunities for entrepreneurs to help make this change happen.
Wadhwa's ebook is available for free download from now through July 22, 2013 here: Kauffman.org