You can't solve today's healthcare challenges with yesterday's solutions.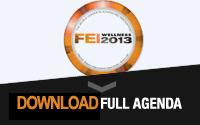 Your industry is facing unprecedented changes. The typical pharma 'business as usual' conference model is no longer a solution. You need an experience that can simultaneously inspire, motivate and push you to think differently.
FEI Wellness is your solution. Borrow business model ideas as you learn from Cross-Industry visionary keynotes, address your unique challenges with 30+ industry specific sessions, and build relationships via uniquely curated learning formats that focus on interactivity and engagement.
Key Issues Addressed include:
' Big Sexy Data and its Potential to Transform Healthcare ' AMIA
' Ready for Healthcare Anywhere? ' Johnson & Johnson
' What if Everything you Thought about Health was Wrong? - David B. Agus, Author, The End of Illness
' New Drug Development Paradigms ' Pfizer, MIT NEWDIGGS
' Making the Hospital More Innovative for Patient Families, Employers & Policy Makers ' UnitedHealth Group
' The Backbone of Consumer Adoption ' Continua Health Alliance
' Helping Consumers to Simply and Effectively Track and Manage Health and Wellness ' Center for Connected Health
' Creating the Next Frontier of Patient Adherence ' Xerox PARC
' Predicting, Planning and Innovating for an Unpredictable Future ' Eli Lily and Company
' The Intersection of Healthcare Social Media and Innovation ' Innovation Excellence
' Executing Experiences That Exceed Customer Imagination ' Beacon Health Systems
' And many more, download the full brochure
The Front End of Innovation is recognized globally as the World Leader in Advancing Innovation because we offer a conference experience like no other: the most provocative and actionable content, and access to hundreds of cross industry innovation peers.
Register by Friday, February 8, 2013, & Save $700 off the standard rate. Register today to secure your spot. See you May 6-8, 2013 in Boston.
Registration Information:
Online: Click Here
Email: register@iirusa.com
Phone: 888.670.8200