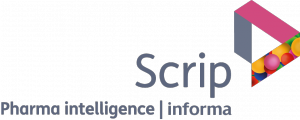 When reflecting on the licensing deals inked this year by biotech behemoth Genentech Inc., two really stand out: the June deal with microbiome company Microbiotica Ltd. to discover, develop and commercialize treatments for inflammatory bowel disease (IBD),  and the collaboration signed with Germany's Affimed NV to develop and commercialize novel natural killer (NK) cell engager-based immunotherapeutics to treat multiple cancers.
[For dealmaking opportunities, join us at  the investor conference, Biotech ShowcaseTM in San Francisco, Jan. 7-9]
Both these deals bring cutting edge science to Roche's biotech arm, says Don O'Sullivan, the company's head of Immunology and Infectious Disease business development, and the man behind Genentech's move into the science and potential of the microbiome. It may not be Genentech's first foray into the world of the microbiome, but it certainly marks a line in the sand; the biotech is serious about the potential this field of science brings to medicine.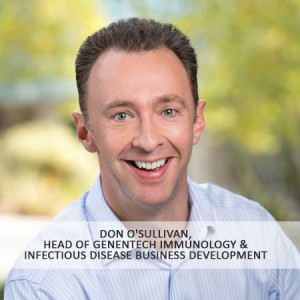 "That was a real significant move for us; we are following the science. We've been watching that space for a while, and waited to find a company that came to us with a true depth of science and innovation," O'Sullivan explained to Scrip.
The deal centers on IBD, Crohn's disease and ulcerative colitis. The companies are analyzing samples from clinical trials for etrolizumab, Genentech's humanized IgG1 MAb which targets the beta 7 integrin subunit, and IL22-Fc a recombinant human protein with potential application across multiple inflammatory and metabolic diseases. From these samples the team identifies bacterial signatures which could identify response to drugs, non-responders, novel targets and novel therapeutics.
Genentech had been monitoring the microbiome space closely for "at least four years" before a deal was struck. Largely a field of observational studies, it was only when Microbiotica and its co-founder and chief scientific officer Trevor Lawley brought "rigorous science" to Genentech's table that a scientific meeting of minds between the two companies could be arranged.
"You can tell, within an hour of our scientists talking to their scientists, whether there's going to be a deal, without doubt. There was deep scientific respect, and rigor that both teams bring to the table and frankly, the scientists were nagging us to get the deal done as quickly as possible," recalls O'Sullivan.
And this marker of intent is clear on other deals that Genentech has struck this year, the $95m deal with Affimed, for example and the collaboration announced in April between Roche's biotech arm and the Seattle-based Kineta Inc. on a non-opioid pain therapy that is touted to be "disease modifying".  "There has to be that connection with the scientists at first, otherwise there's going to be no deal," says British-born O'Sullivan.
When asked about his devotion to finding new medicines, O'Sullivan answers simply: "It's my life." He has worked at the San Francisco-based company for over eight years, and before that was in corporate development at Genzyme Corp.. He has a PhD from Cambridge University in Molecular Biology, and an MBA in Healthcare and Finance from The Wharton School.
O'Sullivan was also the dealmaker behind arguably Genentech's most exciting new discovery, the 'unexpected antibiotic'. This "small deal" done with a San Diego-based company, RQx, in 2013 may potentially bring the first new class of Gram-negative antibacterials since 1968.  In September, the paper Optimized arylomycins are a new class of Gram-negative antibioticsappeared in Nature. "Antibacterial drug discovery is not easy and it's a reflection of the high degree of science and rigor that goes into the program," he says.
"Partnering is always going to be key," says O'Sullivan, when asked about how the future of new medicines will be developed in infectious disease and immunology. "With a lot of the funding that has been available recently, it's good to see that there is a lot of new exciting companies being formed and having the money to do the killer experiments. We feel excited about the space."
Meeting with Scrip at the BIO-Europe conference, O'Sullivan is of course primarily attending to meet with infectious diseases companies, to sniff out the latest scientific potential. "We meet with a lot of these companies, we give them counsel as to what data we need to see to sign a deal," he explains. "They go away, do their work and come back and then when we meet them the next year, it's just great to see that improvement. There is significant advancement in the antibacterial space at the moment."
Content provided by Scrip.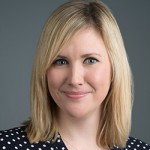 Jo Shorthouse is features editor for Scrip Intelligence and manages the Scrip 100 publication. Jo has covered the biopharmaceutical industry and related service industries since 2008 when she edited Good Clinical Practice journal followed by Scrip Clinical Research. Before this, she worked at various publications covering topics such as chemical logistics, the advertising industry and the property market.