Commercial carpet backings, while hidden from view, not only have an outsized role in the carpet's performance but also in its green story. While fiber systems have come a long way (in fits and starts), backings have been driving carpet's environmental profile for decades. Many of the big carpet mills have programs to recapture their carpet tile and turn it into new carpet tile backings, like Shaw with EcoWorx and Tarkett with ER3.
INTERFACE'S CQUEST
For many years, Interface has been a leader in green carpet, and its ReEntry recycling and reclamation program has recycled hundreds of millions of pounds of carpet over the last couple of decades and turned it into new product, much of it through the recapture of its GlasBac PVC-backed carpet tile. Last year, as Interface unveiled its first carbon-negative carpet tile, it also announced a major retooling of its backing systems.
Interface has replaced its carpet backing line with its new CQuest line, comprising three new backings: CQuest GB, CQuest Bio and CQuest BioX. The backings were launched in October 2020.
CQuest GB essentially replaces GlasBac as the standard backing in the Americas. The new backing includes post-consumer content from carpet tiles, bio-based additives and pre-consumer recycled material. The bio-based content comes from agricultural waste and rapidly renewable plants. With no virgin content, the carbon footprint is reduced, and the bio-based content helps it attain carbon-negative status.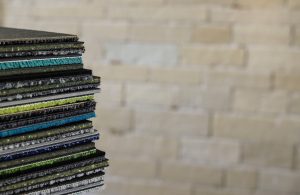 CQuest Bio is a PVC-free bio-composite backing, and its bio-based content and recycled fillers make it not only carbon-negative but also free of red-list chemicals, enabling the product to attain certifications like Cradle to Cradle Silver. This backing will be in demand for end users seeking to avoid vinyl entirely. The firm anticipates demand will be high in the corporate sector; while there's demand for PVC-free flooring in some healthcare institutions, healthcare is mostly hard surface—sheet vinyl in particular.
Then there's CQuest BioX, which has a higher concentration of carbon negative material than CQuest Bio. When combined with a low face-weight product (12 ounces) of a green fiber from producers like Aquafil and Universal, the total carpet tile becomes carbon negative. Cradle to gate, CQuest BioX with a 12-ounce face weight is negative 0.3 kilograms of CO2 per square meter. With a similar 12-ounce fiber system, CQuest GB yields a carbon footprint of 2.18 kilograms of CO2 per square meter, and for CQuest Bio it's 2.9 kilograms per square meter.
UTT'S BIOCEL AND ENVIROCEL
Not all backing developments come from the carpet mills. One firm that has been producing backings with high recycled and bio-based content since 2004 is Universal Textile Technologies (UTT). The basis for its EnviroCel and BioCel attached backings is a polyurethane, which has a formulation that includes soybean polyols. EnviroCel, which targets the hospitality market, is the heftier of the two.
A few years ago, UTT adjusted the formulation of its products, which used to include coal fly ash. As scientific studies established the possibility of contaminants in coal fly ash, the firm eliminated the material. The current formulation includes approximately 55% recycled content, including PET from carpet and drink bottles, along with re-mined calcium carbonate (limestone) from Imerys, a French multinational firm specializing in the production and processing of industrial minerals. The recycled PET carpet content comes from Arropol, which turns reclaimed PET face fiber into polyols for polyurethane. Arropol was launched by Ralph Boe, former president of Beaulieu America. Bio-based content makes up another 7% to 10% of the product.
UTT is now offering BioCel and EnviroCel as unattached pad in a range of widths, thicknesses and densities, driven in part by declining broadloom demand and increased use of area rugs. Also, there's demand in the hospitality market for unattached pads to compete with the rubber pads often used—in hospitality, unattached cushioning is fairly common because the high volumes of carpet moved in for installation can be problematic if weighed down with attached pad. The pad can come in widths as low as 54" and as high as 12'.
Looking ahead, the firm intends to increase its use of the Arropol recycled polyol in both its foam pads and turf backings. And the firm is also promoting a marine pad (for fishermen standing on boats) and an anti-fatigue memory foam pad for industrial applications.