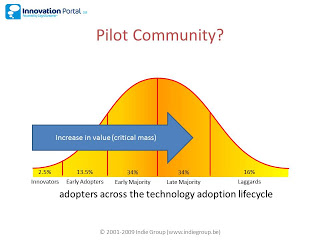 One of the most vexing hurdles for an idea management system deployment is deciding which people should contribute ideas on any given challenge. Then there's the decision of picking a group of people to work on embellishing an idea once it has been submitted. There is certainly value to tapping into the 'wisdom of the crowd' but sometimes an organization wants certain people to work on certain idea streams. You want to consider which people make up a group when you consider:
' The initial group of people who are invited to join the idea management system
' The people who join the idea system as the collaborative system experiences organic growth.
' The groups of people who work on unsolicited ideas as they come into the system.
' The groups of people who submit ideas solicited by challenges the organization poses.
' The groups of people who work on ideas initially promoted when ideas require further analysis and enhancement before ideas leave the idea management system to get elected for development.
' How to identify and invite the organization partners into the idea generation process.
' How to identify and invite the organization's customers into the idea generation process.
' How to identify members of the public and encourage them to participate in the idea process.
Your first ideators It is certainly an art form to select the first group of people invited to participate in a new idea management system project. You probably know who they are intuitively. You know who you can rely on when you have a new exiting project, those types of people who you think of as 'early adopters' or 'innovators'. The types of people who embrace new technologies readily. Some of our clients refer to these types of people as 'the usual suspects'. The usual suspects are easy to encourage joining. In fact, a simple goal for growth might be to merely double the number of people you consider 'the usual suspects'. Organic growth Organic growth is easier than you might think. The trick is to kick off the system with an engaging 'first challenge'. With the right first challenge people will respond because they find the topic of interest. The early adopters working on the idea management system project can think about who else they know within the organization and invite them into the process (hopefully your idea management system has a function that facilitates this). When people find out the action is happening on the new idea management system, they'll want to join in. They will ask if they can be part of the project and the system will achieve organic growth. Groups working on Unsolicited Ideas Unsolicited ideas require different attention than contributions to breakthrough ideas. These types of ideas are typically thoughts on how to gain incremental innovation. For instance, 'if we just did 'this' on the production line, we'll save money' or 'if we did 'that' in the following way, we'll be more productive' or 'make money'. When you launch the idea management system there will likely be pent up demand with lots of people always wondering when they would finally have an opportunity to share their thoughts. The thrill of watching other people pay attention to their submitted ideas will be motivation enough for people to contribute these ideas (versus submitting the idea and that's the last time they ever hear about it). Unsolicited ideas need a fast track to delivery. When these ideas come in, you need a group of people who can assess the worth of the submission rapidly, people who are open to new ideas, of course, and people who are enabled to act on the new ideas. Responders to Challenges When the organization opens up the new idea management system it is difficult to determine who the most likely source will be for new ideas. The best bet is to open the challenge to everyone. This way the system can tap into the 'wisdom of the crowd'. You can also have groups of specialists involved in the process at different times. You can divide the organization by discipline (all the engineers, all the marketing folks) or by division, geography or even by the language they speak (if your organization has a division in Mexico you can invite them into the English speaking larger group or make a special space for them to speak their native tongue). Maybe a particular idea process should be sent to a certain group right from the get-go. The organization can identify certain 'SWAT' teams for certain challenges. These groups can stay in a 'ready" state, poised to assess ideas or even poised to submit ideas. Enhancing an idea Although all types of ideas can come from any type of person, once the idea is posed it should likely be vetted by a team who knows something about the topic. This expert group can decide what the strengths and weaknesses are and also can provide input into a feasibility study. The idea system should be able to direct the workflow of a promoted idea to this group of. And the idea management system should be able to suggest who the best experts are to join in (based on everyone's biography or system behavior). Partners and Customers Your partners and customers will be flattered when they're asked to submit ideas. They will feel part of the process and become invested in the outcomes. They'll get to know each other during the process and, most importantly, they'll appreciate that your organization believes in innovation. Plus your partners and customers (like your sales teams) will provide input your organization never considered. They'll know what they need and maybe know it in a way your organization finds enlightening. This may be the best source of ideas. To get them to contribute you should plan on a marketing campaign and perhaps a contest. The public Of course to truly tap into the wisdom of the crowd, you need a 'crowd' and this usually means the general public. Hopefully your idea management system has an integrated module for 'listening' to what's being spoken on the internet. Ideally you're monitoring what is being said about your company and your products. You're monitoring Facebook and Twitter and chat rooms and web sites for mentions of topics that interest you. Once you identify the people who are talking about you, you can invite them into the dialog. Or you can take the subjects they're discussing and bring them internally for discussion. But ultimately you can just open up to the public, maybe running a contest, and asking them for their ideas. It can be for a specific challenge like 'how do we make our organization greener' or 'what should our company's next product be'. Or even 'what color should we offer our new product in' so your company can buy enough materials in the right color without making a disastrous mistake. Marketing One key element to managing the groups who work on the ideation process is to have a plan for marketing the idea management system to the user community whether they're the company's employee base, your expert operators, your partners, your customers or the public. Launching an idea contest internally or externally is one marketing method. A more thorough, ongoing method to market the idea management system is integration with the places people spend their time. This means your company's Facebook fan page for instance. More powerfully integration with Twitter can aid the process. You ask communities to subscribe to a certain Twitter account so they can be made aware
of certain challenges or news about existing ideation processes. For instance 'Please help us with the XYZ challenge' or 'A discussion of how solar energy can make the company more efficient has new contributions'. The key is a link to the challenge or discussion in question so that your audience can click on it and go directly to the environment to which they've been invited. Taking that one step further, most of us spend a certain amount of time checking our email. Some of us do it from our computers and others of us check on our smart phones. Invitations can go out via email to specific topics with links for people to click on and dive in. A marketing news letter can go out via email (every day, week or month) telling everyone what's happening on the idea system. Again, 'click here to join this discussion'. Conclusion To pull all this off your idea management system has to enable you to pose challenges to a certain group. And the system has to be able to enable you to control the workflow that goes along with an idea's promotion process on any given challenge. There is a bottom line here. Thought has to be given to what the optimal group is for any given ideation task. Controls must exist in your idea management system to enable you to direct the workflow of the ideation process to certain people at certain times. It takes more than an idea management system to succeed. You need to nurture a culture of innovation; to pick the right first groups, the right growth groups. You need to invite partners, customers and the public at the right time and in the right way. And you need to pick the right challenge for each step. The software company who offers the idea management system you select has likely deployed many other systems. They have insights into how to deploy. They should also have a partner community who can contribute to the launch and ongoing care and feeding. A consulting engagement focused on selecting the right groups should be part of the deployment of your system. Ron Shulkin is Vice President of the Americas for CogniStreamer', an innovation management system. You can learn more about CogniStreamer here http://bit.ly/ac3x60 Ron manages The Idea Management Group on LinkedIn (Join Here) http://bit.ly/dvsYWD . He has written extensively on Idea Management (Read Here) http://bit.ly/b2ZEgU . CogniStreamer' is an idea management software tool. It is an open innovation and collaboration platform where internal colleagues and external partner companies or knowledge centers join forces to create, develop and assess innovative ideas within strategically selected areas. The CogniStreamer' portal is an ideal collaborative platform that invites users to actively build a strong innovation portfolio. In addition it provides a powerful resource for internal and external knowledge sharing. The CogniStreamer' framework is used by industry leaders such as Atlas Copco, Bekaert, Case New Holland, Cytec, Imec, Picanol and ThyssenKrupp. CogniStreamer' represents the best use of adaptive collaborative technology such to harness human skill, ingenuity and intelligence.