Calling all Futurists, Trend Spotters, Directors of Foresight, Innovation, R&D, and anyone charged with Future Planning -You are invited to join a New World Re-Imagined.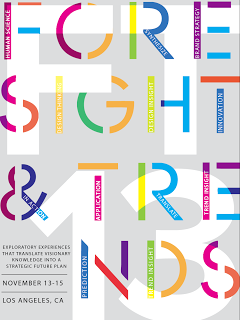 Welcome to Foresight & Trends 2013 (FT'13), formerly known as Future Trends, exploratory experiences that translate visionary knowledge into a strategic plan for capturing future opportunities. The new website is now live and the full program is available for download.
From prediction to implementation: build on what you currently know, add to what you don't, contextualize through pragmatic examples, Implement through workshop intensives, and find out exactly HOW to synthesize visionary knowledge and make it commercially relevant for you and your business.
FT'13  uncovers macro forces that are shaping the future - and dialogues around the trends that result from these global culture shifts - then translates these trends into opportunities that will ensure your future relevance and success.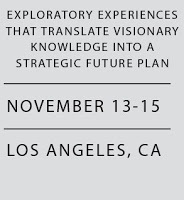 Download the agenda to see the speaker faculty along with full detail on Contextualization sessions, Implementation workshops and Exploratory experiences which cater to the specific needs of YOUR role:
' Innovation
' Trends and Futuring
FT '13 is layered with exploratory experiences that take you outside the conference room and deep into the heart of Los Angeles for Culture Safaris, Trenz'Walks, and a narrated gallery tour of the infamous Artwalk district by a renowned graffiti artist and former gallery owner. This integrated content through experience approach results in a strategic action plan for capturing future opportunities...
It's all about the HOW not the what.      
FT13 - The antidote to conventional learning.
This is YOUR invitation to uncover and capture new opportunities and ensure future business relevance.
*Mention your blog reader code FT13BL to save 15% the standard rate today.