To manage expectations, I do not have a magic solution, where you don't have to do the work.
We all know sustainable and responsible investing is here to stay. And it is evolving. From a simple avoidance of investing in e.g. fossil fuels to investing in higher levels and varieties of ESG maturity like positive ESG integration, Socially Responsible Investing (SRI) and even Impact Investing.
This evolution makes it more complex to select and design your investment portfolio. And how do you judge, which company truly does what they say.
Let's start with this question: How does a company become a credibly sustainable organisation?
Fulfilling some key metrics in a tick the box fashion is not enough anymore. Having one token woman on the board, supporting a charity, paying for tree planting to offset – all of those are good things, but cannot replace a comprehensive ESG strategy.
ESG is a journey, not a quick fix or a tick the box. Authenticity and credibility matters. And both of those you develop over time by being transparent and consistent.
Yet this consistency is really hard to do, if you do not start at the top. Discussing in the board and possibly with large investors what you stand for, what is the purpose of your organisation is not only important for your ESG strategy. It is just as vital for your customer community, for your employee force – and for your decision making. Knowing and agreeing on your purpose guides you in your strategic decisions and keeps you from making those decisions, that can hurt your brand and reputation.
But back to ESG.
So, you have had the discussion and mutual understanding and agreement of your purpose. Let us take the example, that your purpose is the financial stability of your customers – or to put it more in words your customers will understand "their peace of mind, that they are financially secure". So far this is not particularly sustainable.
But now you look at your customers and anticipate (and ask directly) what else they may need and wish. Most people, when looking at their savings or investments, they need solid returns. Therefore, you have to look for safe investments, yet for some growth opportunities as well. On top, many of your customers today are worried about our planet and society. So, if their money can do something good while growing, that is what they will prefer. Some customer groups will be more environmentally conscious, some look more at social responsibility.
You can give them the choice.
And this is where your ESG strategy as a part and embedded in your overall strategy starts.
A good start are the UN sustainability goals. They are definitely broad enough that any company can find 1 to 3 to choose as their principles. Let us imagine you choose 13: Climate Action and 10: Reduced Inequalities.
As those will be part of your business strategy, you could imagine that this will mostly apply to your business decision. But how can you be credible and authentic, if you do not walk the talk? You will have to apply those goals to your own organisation and workforce at the same time as you factor those in your external business decisions.
You will develop several metrics that you will have to measure consistently, for 13 for example: Your carbon footprint from your offices, travel and of course, what you invest in. For 10: You can look at the diversity and inclusion of your workforce (not just gender, but that can be a start), the accessibility of your services or solutions to all demographics and choosing investments, that reduce inequalities like responsible or impact investment.
You can grow your ambition over time both in depth and in breadth. And you will add many more metrics. Once you start looking you will realise, that you are already doing quite a lot of responsible business practices, that count towards the S in your sustainability progress, like health & safety policies, learning & development, employee motivation etc. Same with the E. Anything you do to ensure responsible energy consumption and reduction, which you have to do anyway both for cost and business continuity reasons, are responsible and sustainable business practices, and this apply to your supply chain as well.
It is very important, that you crate consistency and transparency as well over time of your metrics. And that you keep track of your promises and report out transparently, if you fail to reach your targets or want to adjust them. If you do not do it an enterprising activist or journalist will catch you.
Interestingly many of those strategies are not just good governance, but they have opened new business opportunities as well. A Swiss investment fund, that focuses on social housing has found, that this investment offers safe and good returns as their clientele is more likely to stay longer than a lot upper class urban renters.
Doing the right thing is as important as communicating about it.
For good communication metrics will only get you so far. You can tell stories, share examples, showcase real people – all of this will support your credibility and authenticity. And it is a great marketing tool – both to attract talent and to attract and keep customers.
Pursuing a sustainable transformation, has its pitfalls. Loosing focus, making wrong compromises, over promising and under delivering all those can happen. A great way to mitigate those risks is by involving and empowering everyone in the organisation to develop and own their ESG contributions. But that is an article for another time.
-----
If you want to exchange on how you can start or deepen your own ESG journey, feel free to connect.
Under the spotlight: Katja Rieger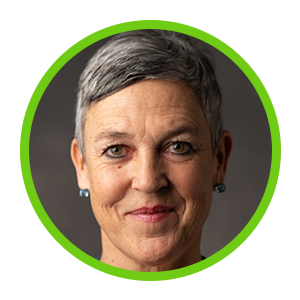 After almost 20 years in corporate life, including roles at GE and Swiss Re, Katja followed her passion and founded her own businesses: consulting & training for organizations to align their strategy and culture, to create credible change journeys, effective leadership and environments that are great to work at.
Katja has lived and worked on three continents (Europa, Asia, US) and understands how to use the powerful impact of purpose, culture and leadership to achieve challenging goals even in volatile ambiguous situations.
Find out more about IMpower Incorporating FundForum 2023 here >>