Thirty-six years ago, artists Brian Eno and Peter Schmidt published a deck of 55 cards set in a wooden box, each observing a random or cryptic aphorism, to be used by artists, specifically musicians, to break through creative blocks and barriers. I recently learned about Oblique Strategies from an exercise with Mark Pollard, the VP of Brand Strategy of the creative digital agency, Big Spaceship, and then looked into what I could find about them as a tool to add to my innovation and creativity toolbox.
How the game is played: The deck can be used as a pack or a single card can be drawn from the shuffled pack whenever a dilemma occurs in a working situation. The problem then can be reworked through the lens of the selected card or several until refined and resolved.
State the problem in as little words as clearly as possible.
What would your closest ally do?
What to increase? What to reduce?
Work at a different speed.
Honor thy error as a hidden intention







The Oblique Strategies App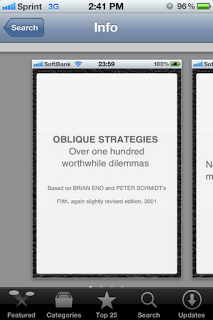 Using this simple technique and its app to clear creative paths would put you and your team right up there with artists like
Coldplay
,
David Bowie
,
MGMT
, who have used the cards while working on music albums. Give it a try and let us know how it goes.
Do you use any apps or similar techniques to help clear barriers to creativity and innovation within your business? Let us know which ones you like best in the comments below.
About the Author
Valerie M. Russo, Social Innovation Lead, Senior Strategist at IIR USA, has a background in technology, anthropology, marketing and publishing.  Russo has worked in a variety of digital media roles at Hachette Book Group, Aol, and Thomson Reuters. She is a published poet and maintains a literary blog. She may be reached at vrusso@iirusa.com. Follow her @Literanista.