Fabio Curry, is a General Manager at Nomads in Brazil. He is also one of our keynote speakers at Foresight and Trends this year, sharing Brazil's Changing Role in Global Trends.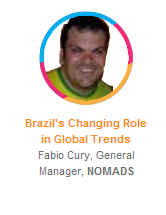 Below Fabio spills some insights into the scene in Brazil, one of the hottest places/markets for innovation, tech and trends on Earth:
Recently I have seen 3 major trends actioned during the protests that took the streets in Brazil: 
1. Connectivity: technology enabling a multitude of connections through ideas sharing dominating the country in a matter of hours.
2. Empowerment: individuals breaking free and taking over the streets to make themselves heard by those formally in power.
3. New Page: a frank and honest debate at all levels (media, social networks) of what new values must guide institutions and society
I see NEW PAGE as the most influential trend changing businesses as we know it. 
New recalibrated values changing the way people think and behave around the world, towards a more balanced lifestyle and society and not just the protection, but the recovery of the planet for future generations.
[on Moving from Insight to Foresight:]
To revamp a centenary premium beer brand in Brazil, with a declining share in a growing market segment, we explored insights to read what was driving purchase and consumption behaviors and contrasted them with foresights, projecting future values and behaviors able to recreate brand aspiration on a unique territory. 
So basically insight helped us understand where consumers were, while foresight helped us find where the brand had to be to revamp an inspiring leadership.