Honeywell Research Chemicals is an established oligonucleotide synthesis reagent, solvent and acid manufacturer. The Honeywell Burdick & JacksonTM BioSynTM product portfolio has evolved in close collaboration with the oligo synthesis community worldwide.
Honeywell solutions can help you lower your overall production costs without compromising on quality, reduce your environmental footprint and drive supply security of key chemicals.
High purity chemicals help you optimize overall process yield and costs
The quality and purity of chemicals used is critical for successful syntheses that results in optimal overall yields. Hence, Burdick & Jackson BioSyn solvents and reagents are specifically designed for scientists and manufacturers performing automated oligonucleotide synthesis. Honeywell's state-of-the-art in-house manufacturing capabilities processes BioSyn chemicals to exacting specifications and packages them to maintain reagent integrity.
Honeywell supplies reagents required for all four steps of the automated oligonucleotide synthesis cycle, including activator, capping, oxidation, and deblock reagents. In addition, Honeywell supplies purified solvents, including washing solvents and acids/acid blends for oligo purification and testing. Along with rigorous quality control procedures refined over two decades in the industry, Honeywell also performs compatibility studies to ensure that metals and contaminants from the reactor and/or packaging are not leached into our products.
To ensure solvent or reagent purity and shelf life is not compromised during transit or storage, Honeywell also provides proprietary packaging designs for various container sizes. We also offer a variety of dispenser options so that your DNA/RNA synthesizer can be directly connected to larger-volume containers to allow the instrument to run continuously over longer periods of time, eliminating leakage and contamination.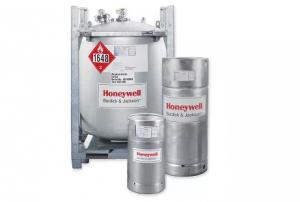 Honeywell continually expands its DNA/RNA synthesis line to accommodate the evolving landscape of the oligonucleotide industry. In addition to our BioSyn catalog products, our technical experts work closely with customers on custom reagent formulations, custom specifications, special packaging or critical product analyses, in order to achieve the oligonucleotide synthesis outcome that they desire and are most compatible with their laboratory or production setup. This can result in significant time savings, cost and waste reduction for our customers.
Innovation in wash solvent lowers your environmental footprint and production costs
Acetonitrile is the largest volume reagent in automated oligonucleotide synthesis, utilized in multiple washing steps and as a solvent for phosphoramidites. As the demand for oligos increases, so do concerns around acetonitrile supply, costs, and the environmental impact of disposal of bulk volumes.
To manage the cost of consumables in the oligo synthesis process, potential acetonitrile shortage issues, and address the environmental burden of the waste stream, there is and will continue to be an acute need in the industry to reclaim and reuse acetonitrile-based wash solvent. Honeywell Burdick & Jackson has developed and patented a process for the oligo-synthesis industry to reclaim and reuse acetonitrile in oligo synthesis. Honeywell is exploring business relationships to deploy this technology at scale with industry partners to ensure stable supply, reduce environmental footprint, and lower the overall production costs.
In the envisioned Honeywell process, the acetonitrile-based washing solvent is collected after every synthesis step and purified so that it can be reused for washing steps in subsequent oligonucleotide syntheses. The recovered washing acetonitrile is tested to ensure that it complies with purity standards, in a similar manner to the BioSyn acetonitrile specifications, so that it will not interfere with subsequent chemical reaction steps. Solvent recovery ensures supply, reduces disposal costs, decreases the environmental burden of acetonitrile incineration, and is cost-effective.
Drive supply security from laboratory to industrial scale
As the interest in oligo-based research and production increases, at Honeywell we are ready to fulfill the needs of our customers with ongoing capacity expansion of our BioSyn line of high purity solvents and reagents. We now have manufacturing sites in the US and Europe, equipped to supply customers globally from laboratory to industrial scale.
Our offerings are available in a variety of packaging configurations for laboratory and production use, depending on end-user requirements across both sites (amber glass bottles, 20L NowPak containers – HDPE or Stainless Steel –, and 50L, 200L and 1250L recyclable containers, as well as tanker quantities).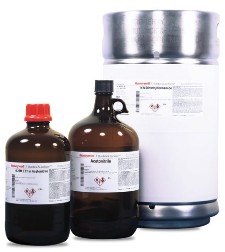 Learn more
Please stop by our booth at TIDES USA and TIDES Europe to learn more about our Burdick & Jackson BioSyn product portfolio and acetonitrile-based wash solvent recovery for oligo synthesis.