Last week we opened up discussion on our June Innovation Book club pick: The Wide Lens: A New Strategy for Innovation by Ron Adner  and sent out copies to our giveaway winners. Don't forget to post your questions and comments in our LinkedIn Group.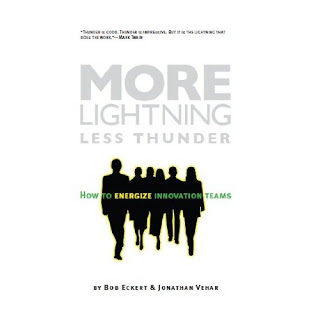 We're pleased to announce our July Innovation Book Club pick: More Lightning, Less Thunder: How to Energize Innovation Teams by Bob Eckert and Jonathan Vehar. Bob Eckert and Jonathan Vehar will both be speaking at BEI: Back End of Innovation taking place October 9-11, 2012, in Boston, Mass.
Bob Eckert will be presenting "Innovation Culture: Knowing What To Strive For, What Not To and How to Measure It" and Jonathan Vehar will be leading our various collaboration sessions throughout the event. Download the BEI brochure to learn more.
In celebration of our July pick, our featured authors will be joining us for a live discussion on LinkedIn on Thursday, July 26th, 2012 at 1 PM EST. 
About the book:
More Lightning, Less Thunder: How to Energize Innovation Teams introduces the fundamental behaviors and specific attitudes necessary to function in a team environment. It's designed to help you work more effectively with others to create innovative results and bottom-line improvements. Mere tools and techniques are not enough to change the way people and organizations work together. Innovation demands that individuals adopt specific behaviors and attitudes in order to flourish within teams.This book shares how to spark your brain and your teams to generate more creative results.
About the authors:
Jonathan Vehar and Robert "Bob" Eckert: are Senior Partners at New & Improved, a consulting company that works with a range of organizations to create Innovation Teams: teams who work together productively to create innovation.
Jonathan was formerly the Director of Training and Consulting for the Creative Education Foundation and prior to that worked in the field of advertising and marketing. He holds a Master's Degree in Creativity and Innovation from the State University of New York. They are both regular instructors at the Creative Problem Solving Institute.
Bob speaks from a background which includes: management experience in both manufacturing and retail, work as a family therapist, creation/direction of the nationally renowned Leadership and Healthy Lifestyles program, teaching in both youth and adult criminal justice systems, and work as a senior "Outward Bound" instructor for incarcerated juveniles. He is on the design team for the Creative Education Foundation's Global Odyssey program.
To Enter This Give-away:
You have several options for entering our book giveaway, and for each task performed you will receive one entry into the contest. Tweet about the book club (as much as once per day), follow us on twitter, "like" us on Facebook or "like" this blog post, or leave a comment below telling us which session you are most looking forward to at BEI: Back End of Innovation. We have four copies of the book to give away and winners will be contacted at the end of the contest. This contest runs through 07/11/2012 at 12:01am.
Enter using the widget below:
a Rafflecopter giveaway
A Refresher on How the Innovation Book Club Works:
Every month, the FEI Team will select a recently published book based on
innovation. We will feature the book here on The Front End of
Innovation Blog.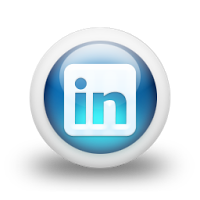 This month's book club discussion will take place in our Back End of
Innovation LinkedIn Group. You must be a member of our LinkedIn Group to
participate in the conversation. You can join here.
All group members are invited to post their unbiased reviews, comments
and questions on the thread as we read the book together (or if you've
already completed it). We will post a recap of some of the best comments
and reviews from LinkedIn to feature and share publicly here on our
blog, with the permission of the contributor.
Michelle LeBlanc is a Social Media Strategist at IIR USA with a
specialization in marketing. She tweets about innovation under the @BEI_innovation moniker, and everything else at @Leblancly.