Our book club is back with a new selection, author chat and a fun giveaway! This time we'll be discussing Jugaad Innovation: Think Frugal, Be Flexible, Generate Breakthrough Growth by Navi Radjou, Jaideep Prabhu, Simone Ahuja and Kevin Roberts.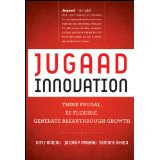 @NaviRadjou
 will be joining us in our Front End of Innovation LinkedIn Group on March 11th to answer any questions posed by you.
You can post your question here
or tweet
#FEIBookClub
to submit your question ahead of time.
Win a Copy!
About the Book:
Innovation is a major directive at corporations worldwide. But how do you drive innovation and growth as the global business landscape becomes increasingly unpredictable and diverse? Western corporations can no longer just rely on the old formula that sustained innovation and growth for decades: a mix of top-down strategies, expensive R&D projects, and rigid, highly structured innovation processes. Jugaad Innovation argues that the West must look to places like India, China, and Africa for a new, bottom-up approach to frugal and flexible innovation.
Building on their deep experience of innovation practices with companies in the United States and around the world, the authors articulate how jugaad (a Hindi word meaning an improvised solution born from ingenuity and cleverness) is leading to dramatic growth in emerging markets'and how Western companies can adopt jugaad to succeed in our hypercompetitive world. Delving into the mindset of jugaad innovators, the authors discuss the six underlying principles of jugaad innovation:
Seek opportunity in adversity
Do more with less
Think and act flexibly
Keep it simple
Include the margin
Follow your heart
To show these principles in action, the authors share previously untold stories of resourceful jugaad entrepreneurs and innovations in emerging markets. The authors also describe how forward-thinking Western firms like 3M, Apple, Renault-Nissan, Facebook, GE, Google, IBM, and PepsiCo are already applying these principles of jugaad to innovate faster, cheaper, and better'and to win.
A groundbreaking book, Jugaad Innovation shows leaders everywhere why the time is right for jugaad to emerge as a powerful business tool in the West'and how to bring the jugaad mindset and practices to their organizations. For more information, case studies, and tools, visit
JugaadInnovation.com
.
Jugaad Innovation from John Wiley & Sons on Vimeo.
Navi Radjou, Co-author of the best-seller Jugaad Innovation and From Smart to Wise, will present "Frugal Innovation: Lessons from Emerging Markets" at the Front End of Innovation event on May 6-8, 2013 taking place in Boston, Mass. See who else you will meet here.