Thanks to everyone who entered our book club giveaway of 
Reinventing Corporate Growth
by Dr. Gene Slowinski. Our winners have been notified and will be receiving their signed copies of the book shortly.
Slowinski will be presenting "Partnerships that
Match Corporate Objectives: Lessons from the Leaders" on Wednesday,
October 10th at the BEI: Back End of Innovation conference. Download the BEI brochure to learn more.
In celebration of our most recent book club pick, our featured author will be joining us for a live online discussion on
LinkedIn on Wednesday, Sept 19, 2012
. Ask your questions about corporate growth, discuss your takeaways or questions from the book and connect with the BEI: Back End of Innovation community.
Join our LinkedIn group to participate.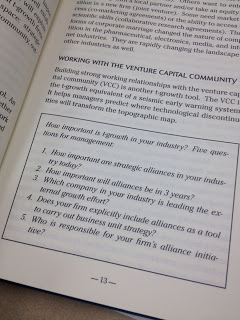 Reading our next book club pick.
About The Book:
Corporations are undergoing a radical transformation as managers seek
new ways to grow. Courageous CEOs challenge their organizations to break
down the walls and invite the outside world in. Visionary managers see
the entire world as their new product development organization and
gather the finest resources from around the globe to create products.
These men and women are changing more than their organizations. They are
changing the nature of business itself. Most management books are
designed to help managers think differently. This book is designed to
help managers act differently. We will follow executives as they
redefine their firms in search of a better way to grow. We will help
employees break out of the cubicles of their minds and embrace external
products and technologies. We will watch product development teams win
marketplace battles by integrating their skills with the talents of
others. This book breaks through the 50,000-foot fluff of buzzwords such
as 'win-win' and 'leverage' and takes you into the trenches. We will
follow managers as they gather in groups of twos and threes ' and tens,
to lead their employees in this new growth model. This is more than a
book on corporate growth. It is an open letter to management, a
challenge to rethink the boundaries of the firm and view the entire
business world as a single resource base. Many will find this book
provocative. Some will find it disturbing. The value of these words will
be judged by their impact on the only two measures that count,
improving the firm's ability to maximize its presence in market space
and increasing the bottom line.
About the Author
Gene Slowinski is the Director of Strategic Alliance Research at the
Rutgers University Graduate School of Management. He is also Managing
Partner of the Alliance Management Group. Prior to forming the Alliance
Management Group, he held management positions at AT&T Bell
Laboratories, and Novartis Corporation. In addition to a Ph.D. in
Management, Gene holds an MBA and a Masters Degree in the sciences. For
the last 20 years Dr. Slowinski has consulted and conducted research on
the formation and management of strategic alliances, joint ventures,
mergers, and acquisitions. His clients include GlaxoSmithKline, Merck,
Lucent Technologies, Motorola, Johnson & Johnson, Ethicon,
ExxonMobil, AT&T, Becton Dickinson, Procter & Gamble, Battelle,
and many other Fortune 500 firms. An author and lecturer, Gene has
presented his work to The Conference Board, The Licensing Executives
Society, The Industrial Research Institute, and The American Electronics
Association. His articles on managing strategic alliances can be found
in Business Horizons, Research and Technology Management, Mergers and
Acquisitions, Economic Development Quarterly, Les Nouvelles, Cooperative
Strategies in International Business, The Journal of Advanced
Management, and Managing the High Technology Firm. In 2003, Gene
co-authored the book The Strongest Link with Matt Sagal. Gene is active
in the technology management community. He is a member of the Academy of
Management, The Conference Board's International Council on the
Management of Technology and Innovation, the Industrial Research
Institute's Research-on-Research Committee, and the Technology
Management Research Center at Rutgers University. In addition, he is on
the Board of Directors of Advanced Adjuvants LLC. Gene's latest book,
Reinventing Corporate Growth: Implementing the Transformational Growth
Model, examines the cutting edge strategies which have been widely
implemented by today's top companies. The concept of Transformational
Growth (T-Growth) focuses on how company's achieve exceptional levels of
growth through better utilization of resources and increased
cooperation with the companies who have the resources you need. By
joining forces with other world-class companies and sharing resources
firms have been able to grow in new and profitable ways. In this highly
anticipated book, Dr. Slowinski highlights some of the more successful
examples of T-Growth in both an informative and entertaining style,
while offering his expert first hand analysis of this innovative
corporate strategy.