Our June Book Club selection is The Wide Lens: A New Strategy for Innovation by Ron Adner.

Ron Adner, is a Professor of Strategy & Entrepreneurship at Tuck School of Business, Dartmouth College. His book, The Wide Lens: A New Strategy for Innovation, has been heralded as a path-breaking guide to successful innovation in an interdependent world. His pioneering Harvard Business Review article, "Match Your Innovation Strategy to Your Innovation Ecosystem," is assigned reading in over fifty global MBA programs. He will join us to present a keynote address on BEYOND INNOVATION at BEI: Back End of Innovation taking place October 9-11, 2012, in Boston, Mass.
To learn more about all the BEI Keynotes and program, click here and download the full agenda.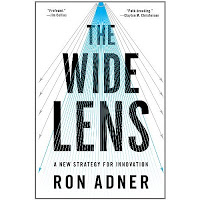 About THE WIDE LENS: 
How can great companies do everything right - identify real customer needs, deliver excellent innovations, beat their competitors to market - and still fail?
The sad truth is that many companies fail because they focus too intensely on their own innovations, and then neglect the innovation ecosystems on which their success depends. In our increasingly interdependent world, winning requires more than just delivering on your own promises. It means ensuring that a host of partners -some visible, some hidden- deliver on their promises, too.

In The Wide Lens, innovation expert Ron Adner draws on over a decade of research and field testing to take you on far ranging journeys from Kenya to California, from transport to telecommunications, to reveal the hidden structure of success in a world of interdependence.

A riveting study that offers a new perspective on triumphs like Amazon's e-book strategy and Apple's path to market dominance; monumental failures like Michelin with run-flat tires and Pfizer with inhalable insulin; and still unresolved issues like electric cars and electronic health records, The Wide Lens offers a powerful new set of frameworks and tools that will multiply your odds of innovation success.

The Wide Lens will change the way you see, the way you think - and the way you win.
We will post a discussion thread for our Back End of Innovation LinkedIn group to have an open discourse about THE WIDE LENS and we invite you join us and  to chat with Ron in person at BEI12 this fall.  You can also post your questions and reviews in the comments below or via the twitter hashtag: #FEIBookClub.