What if you could look into the mind of a VC and get to know their strategy, what they look for in a founder and which areas they would definitely steer clear of when assessing if an investment is worth their time and money? Now you can. We sit down with leading VCs to give you their thoughts on trends shaping the industry, their road to success and challenges LPs and GPs are facing.
Today we're speaking to Leila Zegna, Founding Partner at Kindred Capital about the importance of the WHY and the challenges of liquidity.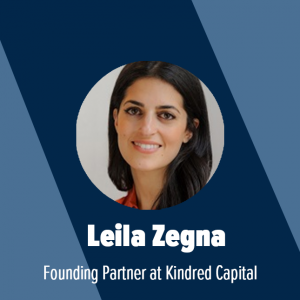 What are you looking for when assessing investment opportunities?
At Kindred we invest at the earliest stages of company building – so it's really more about the founder(s) than anything else. We get excited about missionary (vs. mercenary) founders, where they have deep insight into the problem they're solving and a profound need to spend a decade or more of their lives solving it. Many of the founders we invest in have struggled first hand with the problem space, and in that sense are "scratching their own itch" where they have deep empathy for the customer, and are setting out to build a solution to a problem they themselves have grappled with.
What is the most important question(s) to ask a start-up in which you're considering an investment?
Why?
If you ask that question enough times, and from enough angles, you really start to understand the depths of the motivations of the founders. And that motivation will have to see the team through all the wild swings of up and down in company building.  It's not for the faint hearted, and on the journey to build a multi-billion dollar company there is a $50M offer, and then a $150M offer, and then a $350M offer. One has to be so steadfast and determined in the mission and goals to continue to say no to attractive, maybe even life-changing outcomes for the founders individually, because there is a bigger prize to go after and more impact they feel they can uniquely have in the world. 
In which regions and areas do you see the most opportunities and what strategies and regions are you actively investing in?
We are incredibly excited about infrastructure technology, across end application areas – backing the picks and shovels of industries like SaaS, Fintech, and Automation to name a few seeing great founders across the UK, Europe and Israel and invest in each of those geographies.
How do you conduct due diligence to ensure minimal risk and high returns?
The vast majority of due diligence at our stage is around the human capital that is embarking on the journey ahead. This includes a lot of backchanneling, referencing, and most importantly spending meaningful time with the founders / founding team, taking them off script and understanding the depth of insight they have around a market and their core motivations.
What are the biggest challenges LPs and GPs alike are facing in venture capital?
The biggest challenge facing the industry today is a liquidity challenge. I heard it synthesised perfectly in the following sentence:  LPs are pulling back from being overcalled and overallocated, and GPs are suffering from being under-reserved and under duress. Without the continuous distribution of funds back to LPs, the faucet dries up in terms of new funds (or even drawdowns of existing commitments) which then has a effect on the entire venture funding ecosystem.
How do you expect the market to evolve in 2023 regarding venture, fundraising and start ups?
We expect 2023 to be a "tale of two cities" in some ways. On one hand, we believe it will continue to be environment for both GPs and (especially more mature) companies to raise money. The lack of meaningful liquidity options, including an IPO window all but sealed shut, continue to create liquidity challenges for the industry as a whole, and we expect this to continue (and intensify) in the rest of 2023. On the other hand, an incredible time to be deploying a fresh fund, where there is substantially more alignment between founders and investors with regards to right-sizing valuation in-prices, and treating a fundraising round for what it should be – the start to a long relationship.
What advice would you give to a founder pitching to a VC?
I always encourage founders to start with the WHY, which is the most powerful story-telling mechanism you have to capture the attention and imagination of VCs.  Then you move to the HOW – which in this market should have a clear and articulate understanding of capital efficiency, near/medium/long term inflection points, and not just value creation but also very meaningful value capture for the company.
Want to hear more from Leila Zegna? Join her at SuperVenture 2023.