Intrapreneurship is a relatively new concept developed to
help large companies create new businesses, a process often called
transformational (or disruptive) innovation. Intrapreneurship aims at
instilling the spirit of entrepreneurship--usually associated almost
exclusively with startups--in the corporate culture. Being intrapreneur means
working for a large company, yet constantly taking risks and experimenting, as
small company's entrepreneurs do. 
Yet no matter which specific shape corporate
intrapreneurship might assume, there is one vitally important question that
must be addressed: the relationship of the corporate intrapreneurship unit with
the rest of the organization. If the newly-formed intrapreneurship structure is
located within an existing business unit, there is a danger that it'll lose its
entrepreneurial edge by falling back to solving short-term problems relevant to
the 'host' business unit. On the other hand, if this structure is too isolated,
both geographically and administratively ('an island and the mainland' model),
it runs the risk of becoming irrelevant to the rest of the company.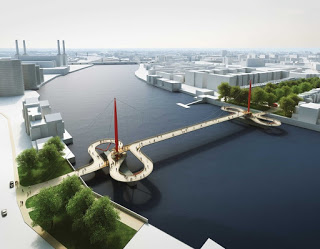 Many perils of creating a corporate intrapreneurship unit
will be significantly alleviated if the maternal company already has a
functional Internal Innovation Network (IIN). I already
wrote
about the crucial role played by IINs in the overall corporate innovation
strategy. Here, I'd like to highlight four major reasons why a viable IIN would
help support corporate intrapreneurship:
1.     
IINs help foster the very culture of collaboration
the lack of which makes disruptive innovation in large companies difficult in
the first place. Much has been spoken about the 'NIH (Not Invented Here)
Syndrome'; however, it's important to realize that the NIH Syndrome applies to
intra-company collaboration too as individual units are often reluctant to
share with others their findings. By breaking internal silos and promoting
intra-company collaboration, IINs prepare the whole organization to accept new
ideas regardless of their origin.
2.     
Corporate intrapreneurship requires close
coordination of multiple functions within an organization, both that are
(R&D, Business Development, Marketing) and are not (Finances, Legal, HR) directly
involved in the corporate innovation process. However, in the majority of
organizations, there is no institutional platform for all these units to
collaborate on strategic issues. IINs provide such a platform, increasing the
efficiency of decision-making and reducing the need for endless face-to-face
meetings.
3.     
IINs provide intellectual and operational
support for the company's external innovation programs. First, they help
identify problems whose solution would require external sources of knowledge
and expertise. Second, they facilitate testing and implementing of incoming
external ideas and solutions. In other words, they provide a much needed
'bridge' between the corporate intrapreneurship unit ('island') and the rest of
the company ('mainland').
4.      IINs
help identify emerging corporate intrapreneurs who--especially in
junior positions and in geographically remote units--often remain unnoticed to
the corporate innovation leaders. Because IIN platforms are intrinsically
democratic, they provide voice to every employee regardless of their rank and
location in the company.
Of course, it'd be an exaggeration to say that by themselves
IIN can guarantee the success of a corporate intrapreneurship initiative. Yet it
will definitely make chances for such an initiative to succeed much higher.

About the Author: Eugene Ivanov is helping organizations of different sizes design and implement internal and external innovation programs. He's an expert in selecting and defining R&D problems that can be successfully solved by crowdsourcing. He writes blog Innovation Observer and tweets @eugeneivanov101. 
Image credit:
www.wired.com