In a world of increased transparency and a need for greater consumer protection, the regulatory burden and need to comply is growing. Also, finance, risk, and compliance (FRC) functions within banks need to move fast to stay compliant at minimum cost, but ideally, they also need to help their entire organisations compete through digital innovation. The key is for the FRC functions to add value by leveraging data solutions embedding regulatory competences.
The essential enabler for solving these challenges is building or extending data foundries to create a new management framework. By using this framework, organisations can become service centric and bring more efficiency to their processes, as well as guaranteeing continued fulfillment of FRC regulations.
In recent years, banks have taken the first steps towards establishing data foundries for FRC functions, with organisations typically investing about 5-10% of their budget in this area. These early initiatives were about better managing data inside and outside the FRC organisation, mainly to address regulatory programmes such as BCBS 239. However, the initiatives were also about using data differently and creating innovative solutions to support regulations effectively and efficiently.
Banks now have the opportunity to increase the return on their investments by strengthening their data foundries. The data platform must become a data-centric asset that enables the development of various data prototypes (reporting, business intelligence, data science) in an accelerated, secure way, making it possible to take each use case all the way from prototype to live solution.
The construction of the improved data platform should be coordinated by the organisation's IT management. It will rely on five pillars:
Technological platform and operations (e.g. cloud or on-premise services) enabling data sourcing, storage, quarantine zone (data prep), development environment (data science), and user interface
Data usage resources (e.g. data scientists, developers), services (e.g. Dataiku, Google Cloud Datalab, Microsoft Azure), and consumption monitoring, all of which will facilitate the delivery of data use cases
Data trust governance, process, and tools that enable security and compliance all along the value chain (e.g. identity access management (IAM), auditability)
An economic model for accessing data platform services that make it either neutral or profitable in terms of costs
A data platform operating model to orchestrate end-to-end delivery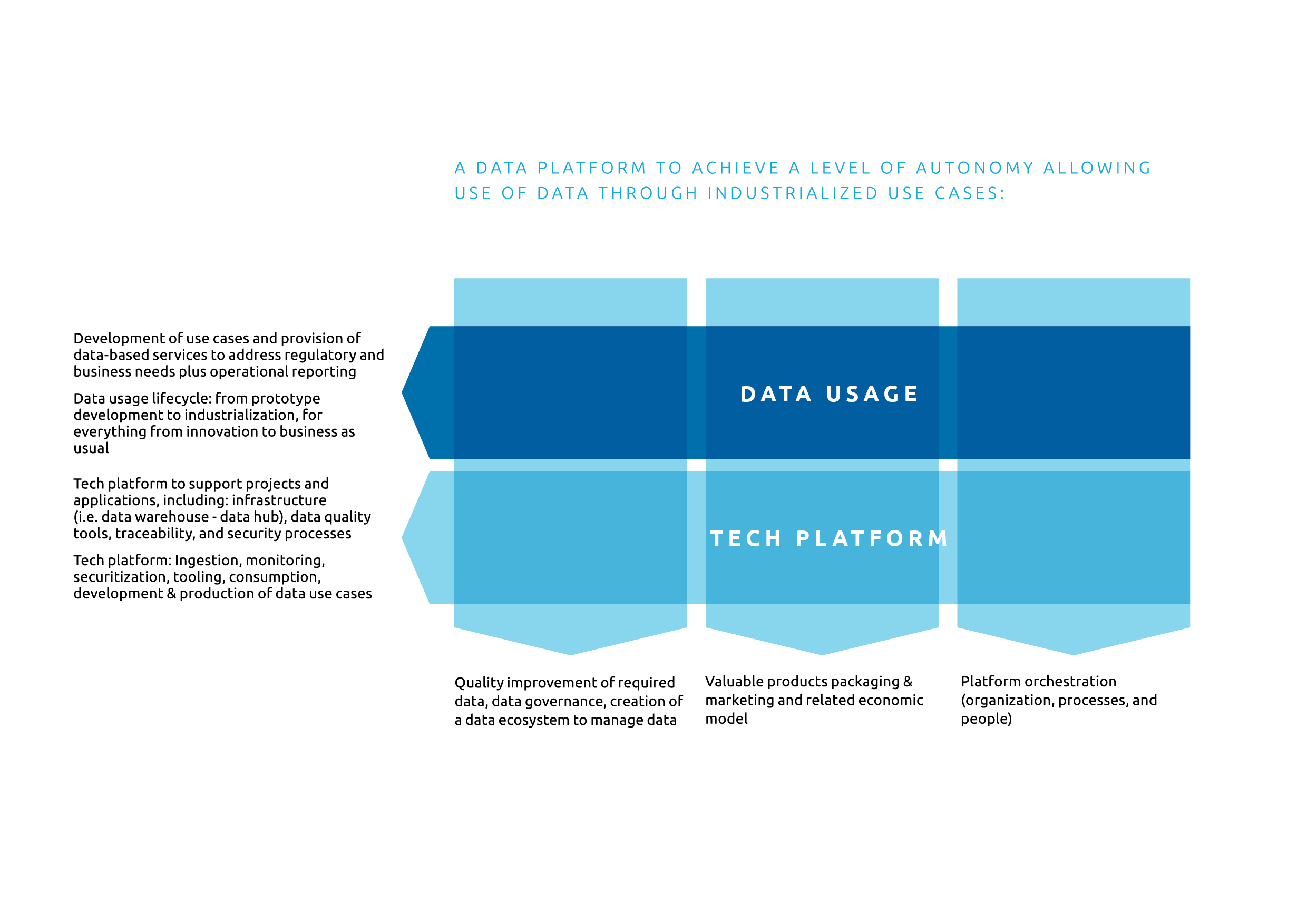 Banks can reconcile these conflicting pressures – the need for thorough compliance with evolving regulations on the one hand, and cost savings on the other. It's a matter of using their FRC data platform and associated solutions and assets (such as data lakes) in new ways:
Cost control: To reduce the costs of FRC processes while ensuring the highest levels of regulatory compliance to avoid penalties.
Efficiency: To embed new or enhanced regulations and then maintain ongoing compliance as efficiently and effectively as possible
Innovation: To support end-to-end-business processes and launch new services that will add value for the whole organization.
Significant cost reductions can be achieved by, for example, enhancing data solutions based on the existing foundry with AI to facilitate greater automation. And that same approach will help to leverage the potential of existing tools and to find completely new ways to make FRC – and the whole organisation – more efficient and effective.
To transform their business functions successfully, banks need to be inventive. Capgemini Invent identified five areas in which financial institutions have the opportunity to level up their business and bring to life what's next:
FRC Data Platform
Credit Risk
Operational Risk
Compliance
Finance
Our inventive approach empowers banks to tackle the challenges of transformation. We welcome you to read on in our brochure or on our website and find out more.

About Capgemini Invent
As the digital innovation, consulting and transformation brand of the Capgemini Group, Capgemini Invent helps CxOs envision and build what's next for their organizations. Located in more than 30 offices and 22 creative studios around the world, its 6,000+ strong team combines strategy, technology, data science and creative design with deep industry expertise and insights, to develop new digital solutions and business models of the future.  Capgemini Invent is an integral part of Capgemini, a global leader in consulting, technology services and digital transformation. The Group is at the forefront of innovation to address the entire breadth of clients' opportunities in the evolving world of cloud, digital and platforms. Building on its strong 50-year heritage and deep industry-specific expertise, Capgemini enables organizations to realize their business ambitions through an array of services from strategy to operations. Capgemini is driven by the conviction that the business value of technology comes from and through people. It is a multicultural company of over 200,000 team members in more than 40 countries. The Group reported 2018 global revenues of EUR 13.2 billion. People matter, results count. Visit us at www.capgemini.com/invent.