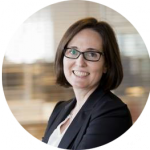 Sonia Fasolo, portfolio manager of Echiquier Positive Impact at La Financière de l'Echiquier discusses Sustainable Development Goals, and why if we want to invest for a better world, they need to be a part of an ESG strategy. 
Launched at end-2015 under the auspices of the United Nations, the Sustainable Development Goals (SDGs) have been adopted by the 193 UN member states. Their ambition is to transform the world by 2030, "ending poverty, protecting the planet and ensuring that all people enjoy peace and prosperity". While the 17 SDGs are primarily addressed to States, everyone has their part to play if they are to be more than just words. Companies can contribute to achieving these aims, through the products and services they offer and also through the robustness of their CSR policy. 
The introduction of SDGs to ESG considerations moves the field on from a "risk" approach to one focused more on "opportunity"
Aside from the "macro" goals, which are hard for the private sector to address (ending poverty, actions to promote peace and justice, etc.), a number of SDGs are relevant to a more "micro" scale. Clean energy, water, responsible consumption or sustainable cities and communities are challenges that companies can help address directly, through the products and services they bring to market, and indirectly, by adapting their strategy, economic model or investment choices. Companies have significant levers for action on health and safety at work (SDG 8), such as SPIE, a European leader in multi-technical services which has some of the lowest accident metrics in their sector, or on gender equality (SDG 5), such as Legrand, the global leader in electric equipment half of whose directors are women. Some companies do manage to contribute to "macro" goals, such as Kerry Group, global leader in food ingredients, which donated the equivalent of 290,000 meals in 2017, so contributing to SDG 2 on ending world hunger.
Why should asset managers be interested in SDGs?
Classic non-financial analysis - using environmental, social and governance (ESG) criteria - generally seeks to identify non-financial risks and understand how companies address them. The introduction of SDGs to ESG considerations moves the field on from a "risk" approach to one focused more on "opportunity". The pursuit of SDGs will, generate commercial opportunities for companies whose products and services contribute directly to their achievement: these issues will be growth drivers for companies who are able to leverage them. The report Better Business, Better World[1]  values these opportunities at more than USD 12,000 billion by 2030 in the themes of food, sustainable cities, clean energy and well-being alone. However, involvement alone will not be enough. The robustness of the economic models underlying these actions in support of SDGs and the quality of stock-picking by investment managers will be key to success. 
As an SRI pioneer in France, La Financière de l'Echiquier plans to play an active role in promoting and achieving the SDGs. Our SRI-certified SICAV, Echiquier Positive Impact, which has adopted the UN framework, invests in companies that make a concrete contribution to the achievement of SDGs. Of the 17 UN-defined goals, we have identified 9 which have business relevance and for which we can measure revenue: "good health and well-being", "quality education", "clean water and sanitation", "affordable and clean energy", "decent work and economic growth", "industry, innovation and infrastructure", "sustainable cities and communities", "responsible consumption and production" and "peace, justice and strong institutions".
Echiquier Positive Impact pays part of its investment fees to the Financière de l'Echiquier Foundation, which for more than 12 years has been supporting education (SDG 5) and the fight against social exclusion (SDGs 1 and 10). Through this profit-sharing mechanism, which perpetuates the company's philanthropic DNA, we are making a concrete contribution to achieving the SDGs, well aware that the financial sector must get involved. But our responsibility goes beyond this: to channel capital towards the most virtuous companies, those which are delivering solutions to the great challenges facing humanity (identified through our proprietary methodology).
[1] Business & Sustainable Development Commission, 2017 -  http://report.businesscommission.org/