Been there, done that, got the T-shirt. We all know that saying. But hardly any of us can say that we have had our profiles on billboards all over town, for the new Nike football shirt for FC Barcelona, one of Europe's top teams. But Peptomyc's co-founders Laura Soucek and Marie-Eve Beaulieu, the Johnson & Johnson Innovation-sponsored 2017 BIO-Europe Spring® Startup Slam winners, can say precisely that. Peptomyc, which is focused on taking a cancer treatment against an, until now, undruggable target to the clinic, received a stunning acknowledgement of post-event success from a global brand well outside the life sciences sectors.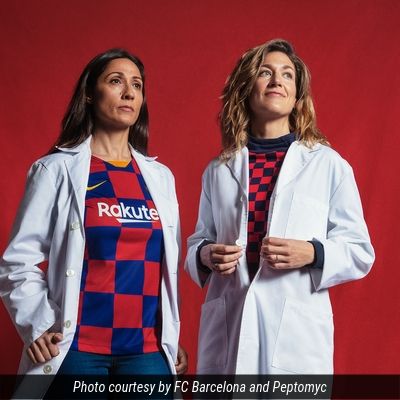 Laura and Marie-Eve were featured on a T-shirt Nike designed to showcase people working in Barcelona who drive and inspire Spain's capital city, under the campaign slogan el talent no tiene una sola forma ("talent takes more than one form"). Laura said of her BIO-Europe Spring win that "the Startup Slam is a very selective process and winning it provided us with a great springboard to reach wide media exposure and international recognition." Spain is fast growing as a major player in Europe's life sciences league, and recognition of Peptomyc's co-founders by Nike helps put Barcelona firmly on the biotech map.
Other Startup Slam winners have been busy expanding their management team as they grow from startup to scale-up. Over in The Netherlands, the BIO-Europe® 2017 Berlin winner, Amylon Therapeutics, is developing therapies for rare genetic disorders of the central nervous system. In football, the game is won as much by the team off the field as on. So too in life sciences, where the supervisory board and scientific advisory board have key roles in determining a company's strategy and tactics, influencing the direction of R&D and pipeline development. At Amylon, since its Berlin win, the company has recruited two members to its supervisory board: Dr. Art Levin, an expert in antisense oligonucleotide therapeutics, and Dr. Bo Jesper Hansen, a key figure in shaping the modern European orphan disease market. The company also expanded its scientific advisory board and recruited Dan Curtis as Chief Development Officer.
Thomas de Vlaam, Founder and CEO of Amylon, said of the Startup Slam, "It was a fantastic opportunity to stress test my pitch and get exposure to a widespread audience. It also led to a fruitful relationship with EBD where I have been able to be part of the Boston CEO steering committee as well as moderating and participating in very interesting panel discussions." As Thomas leads the Amylon team to push the boundaries of technology and enter a new era of CNS therapeutics, we look forward to seeing the profiles of Thomas, Art, Bo and Dan one day on a T-shirt for legendary footballers Ajax Amsterdam.
BIO-Europe's sixth Startup Slam offers innovative entrepreneurs the exciting opportunity to pitch their company to leading authorities in the global biotech industry. The finalists receive presentation training in advance of their debut on the Startup Slam stage, by life science specialist communications firm, Scius Communications. The event is sponsored by Johnson and Johnson Innovation – JLABS, which is the premier life science incubator empowering and enabling innovators to deliver life-enhancing health and wellness solutions to people around the globe. The winner at the BIO-Europe 2019 Startup Slam will receive mentoring from industry experts at Johnson & Johnson Innovation, as well as a complimentary registration (normally over EUR 2,500) to a future EBD Group event.
BIO-Europe 2018's winner was Yuhong Dong, CSO and Co-Founder of Swiss startup biopharmaceutical company SunRegen Healthcare, which focuses on developing innovative treatments for patients with optic nerve and retinal neurodegenerative diseases. Yuhong said of her Copenhagen BIO-Europe experience, "The well-organized Startup Slam has given SunRegen good exposure and great publicity. We have benefited from winning the award and follow-up mentorship by J&J. Our leadership team is now expanding with much stronger life science experience."
Football is best when watched with friends, and so is the Startup Slam, which draws a big supportive crowd every year at BIO-Europe. The audience will include pharmaceutical business development executives seeking new products for their pipeline and specialist investors looking for their next rising star. A big fan of the event is Elena Fernandez-Kleinlein, Interim Head of JLABS EMEA, Johnson & Johnson Innovation, who said, "The Startup Slam at BIO-Europe empowers innovators to accelerate the delivery of life-saving and life-enhancing health solutions to patients, which is why Johnson & Johnson Innovation – JLABS is committed to supporting initiatives like these."
This year's Startup Slam will take place on Tuesday, November 12, at BIO-Europe in Hamburg, Germany. To witness the event, and help decide the audience's favorite, come and join us at the Hamburg Messe, Level 0, Hall B4, Room 1 from 3–6pm. Last year's recipient of the Audience Choice award also benefited from the recognition. Paul Fehlner, President and CEO of US-based ReVision Therapeutics, which focuses on innovative medicines to restore vision in rare eye diseases, said, "reVision has advanced its Stargardt disease program, forming a scientific advisory board with leading clinicians and researchers from around the world, including Brian Brooks from the National Eye Institute, and actively collaborating with Marcelo Nociari, the Weill Cornell Medical researcher who conducted the original experiments for this project."