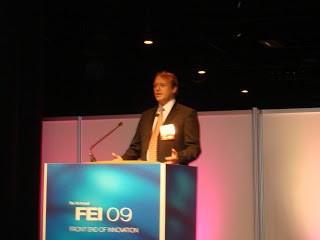 Max von Zedtwitz begins his keynote speech by stating that there is great untapped potential in China that we have not yet reached. Many foreigners have picked up on this trend and have started to invest in R&D. There are more than 1,000 R&D facilities in China, a country that years ago was put in comparison to 3rd world countries in Africa.
China is building up its education resources in order to better innovate. China houses over 2,500 universities and are expanded its infrastructures including books from all around the world. In 2006 there were more than 25 million university students in China. There is a strong connection with the top Chinese universities and the government. The last two Chinese presidents were Deans at their respective university. There is a huge emphasis in education in China. In a few years there will be more students of science in engineering in China than total students in the US.
How Western Companies Leverage Chinese Creativity and Innovation Companies like Nestl' have setup research facilities in China in which they discovered what products worked in that country. Food companies invest in R&D in China because of their kitchen logic, new ingredients, and trendsetting food categories. More and more countries are setting up R&D facilities in China. The two leading cities with the most facilities are Shanghai and Beijing.
There are also some concern in doing business and R&D in China. One of the biggest concerns is how to protect IP in China. There is not a solution'IP will be stolen and will be copied. Managing Chinese staff and making R&D collaboration work are some other concerns and issues.
What Chinese Companies are Doing in R&D Innovation Space technology in China has grown tremendously; they have the ambition to land on the moon which would make them only the 2nd country to do so. Max stated that he would not be surprised if China would be the first to land on Mars. China is also moving to the electrification of vehicles where vehicles right now can get up to 250 miles per charge, whereas GM is only promising 40 miles per charge.
China Wake-Up Call
- Very Technology friendly society- people are looking at technology as a source of progress
- Top-down 'directed' leadership ' provides stability for R&D to blossom and grow
- Mass-parallelization of R&D work across China ' China can throw greater numbers at a problem
Updated: