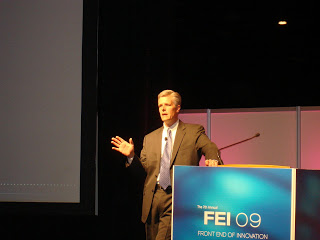 Peter Erickson, Vice President of Innovation at General Mills, started off today's morning sessions by giving a brief introduction of General Mills and its products. Shortly thereafter, he went into breaking down that in 2004 General Mills failed to realize that while they were innovating, so was the competition. Also, during this time period 'variety innovation' was in place, and innovation was copied quickly from competitors.
General Mills quickly realized that producing more products wasn't necessarily better, what they needed to do was find a new way to innovate on their innovation and breaking away from the competition. Rebalancing their portfolio and bringing higher quality innovation into the marketplace was the goal. Rebalancing the portfolio meant moving from the line extension that included brand extensions and new platforms. Metrics were put into place to measure the quality of innovation.
5 actions were needed to improve innovating on innovation
Find great products regularly
Expand available talent
Get smarter sooner
Save to grow
Pave a new way
General Mills invested in weight management solutions because they realized that there was a demand in this space. There were 4 categories in the space and they were low fat products, reduced sugar products, low calorie products, and portion control. General Mills put leaders in place to study weight management solutions for 16 weeks. The process was called I3 and it consisted of 3 steps.
- Understanding the problem
- Build Intuition
- Solve the problem
From this research, General Mills came out with products like the Betty Crocker Warm Delights brownie. It was a tasty low calorie, low sugar, portion control product. General Mills also launched the Progresso Light soup line in which they leveraged best practices with Weight Watchers in order to cater to consumers watching their weight.
General Mills changed their mindset and model from the invention model to a connection model in which their researchers viewed the world as a lab. It helped employees collaborate better with suppliers and food inventors. General Mills approached a food inventing company in Canada that produced Bake-n-Bites and used their distribution and marketing channels combined with the product to reach a broader audience.
Another step in the process including getting smarter and taking products into consumer homes to see if the product line would work. By identifying things that work and things that don't, General Mills was able to either add new insight or throw it in the trashbag saving time and money. General Mills reevaluated what was built in the product that delivered the consumer experience. By taking non value added costs out, they can save more money to invest in value driver components. The concept of organizational innovation is a key theme when we talk about our innovation process.
Peter concludes by stating that these are the 5 steps General Mills takes to innovate on innovation, but it might not work for every company.
Updated: