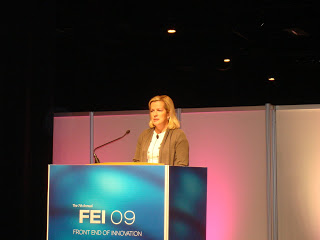 Verena Kloos starts off her presentation by saying, 'Innovation is not something you can turn on and off like a lightswitch.' You can not think one dimensionally when you are thinking about the idea of innovation.
Products were only designed to last a period of time, and the car industry went through a similar advancement. Verena mentions that disposable cars, like the ones being made in India, Is not innovation. These cars will not last decades and increased cars will cause major traffic concerns in the country.
Verena gives us two definitions of innovation below
'The successful introduction of something new and useful' and 'new ways of doing something'
BMW DesignworksUSA has opened up design centers in Los Angeles, Munich, and Singapore. The center in Germany provides a sort of cosmopolitan flair to the design. Max von Zedtwitz just finished presenting on the importance of moving R&D centers to China, and BMW seems to be on right track with opening up a design center in Asia.
Strategic vision, then design, and based on that you develop your technical programs. BMW has invested tremendously in in-house learning. Designworks realized that they had to change the culture in order to spark creativity. They literally broke down the walls and eliminated cubicles so that designers could take advantage of the open space to collaborate and work together. BMW created a collaborative creative work culture to keep everyone engaged.
Verena leaves us with this closing comment. 'When thinking about the future sometimes you have to shock them with a product. Design is not an exact science, and so tolerance comes hand and hand with it. '
Updated: