The keynote address began with a warm welcome by Front End of Innovation conference director Jennifer Finer. Soon after the introduction Dev Patnaik, Founder and Principal of Jump Associates, went into how the PS2 scared Microsoft when the video game platform became the digital media hardware leader. Microsoft knew that they had to do something out of the box to succeed because they were software experts, not hardware.
Microsoft launched a separate game console called Xbox which tailored to hardcore gamers. This had been the most successful game console launched to date, before Atari. Microsoft then wanted to break the mold like they did with the video game console when iPod sold over 60 million units. The same team that worked on the Xbox worked on the Microsoft Zune, which failed in regards to the iPod. So why was it that with the same people and the same budget they came up with a product that failed in the market?
This photo from his slide below sums up why: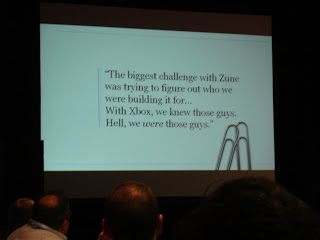 "The biggest challenge with Zune was trying to figure out who we were building it for' With Xbox, we knew those guys. Hell we were those guys.'
In order for companies to grow and innovate they need high levels of:
Empathy
Creativity
Execution
Empathy is the missing element that companies need to grow. Harley Davidson is a great example of a company that has a great sense of empathy. From the minute you come into Harley Davidson they tell you what is important to them, and to them it's the culture of riding. The company refers everyone to riders instead of consumers. One of their mottos is 'we are them and they are us.' Another company that does a good job of showing a sense of empathy is Nike. Many employees are devoted to sports in some way. Even the wings in their buildings have names like the Mia Hamm Wing or the Tiger Woods Wing. This is a way of reminding people of what is important in company and keeping the culture of sports alive. As a result of this it made employees think like the consumers and it gave them the gut sense from the outside world.
Dev presented a chart of companies with high empathy and low empathy. Commerce Bank, Harley Davidson, and IBM are the leaders in high empathy whereas companies like Citibank, Delta Air Lines, and Kraft rank high in low empathy.
'The lesson is we all have a sense of empathy but companies do a good job of beating this out of us.'
The problem lies that we do a good job of telling people to leave baggage and emotion behind because this is business and we need logical answers. When companies have an empathic relationship with their consumers they succeed.