I've spent more hours than I care to admit considering a good tag line for what I do. Customer-centered innovation? Customer-driven innovation? Customer-led innovation?  Customer research? User-centered design? User Experience? User-centric innovation?  Participatory innovation? Participatory design?  All or some of the above?  I have an 'elevator pitch' for what I do, but it requires an elevator ride in a very, very tall building.
Whatever you call it, my work and passion have always been about engaging customers and users at the front end of innovation, at the back end of innovation, and throughout product development, testing, launch and beyond. Eric Ries's 'The Lean Startup' and its inspiration, Steve Blank's 'Customer Development Model,' have been steadily increasing in popularity among startups and enterprises alike. My particular area of activity is Lean Customer Research', connecting to customers and users early, iteratively, and continually to validate assumptions about what they need and want, and how they use and buy products and services.
But what about tapping into customers and users earlier on, while generating ideas vs. validating them?  Years before my fangirl obsession with the Lean Startup, I was one of the original Lead-User Research method proponents. Based on Eric von Hippel's groundbreaking work on the sources of innovation, the Lead-User Research method is a way for companies to discover and adapt innovations from lead users.  As I wrote in 'Lead-User Research for Breakthrough Innovation' in the January-February 2011 issue of Research-Technology Management, 
The lead-user research method goes beyond other customer-centered approaches, seeking insights not only from customers but from 'lead users,' users who are so far ahead of the industry that they see no choice but to invent solutions to meet their needs.
I mentioned to a colleague I'd love to do a 'Lead-User Research' presentation.
'You mean LEAN User Research? Like in the Lean Startup'?
 'No, LEAD-User Research.  It's about discovering the problems and invented solutions of leading edge users and applying that to your business,' I added. 'There's a hyphen in between 'lead' and 'user'.  They're lead users. With Lean User Research, they're not lean users. It's the research that's lean, not the users.' 
'You lost me there.'
That's when I always lose 'em. Both methods are about getting out and connecting to customers and users. Both methods straddle the three worlds of innovation, market research and user experience. And both should be part of every customer-centered innovator's suite of tools.  
Here's a quick comparison: 
Lean Startup vs. Lead-User Research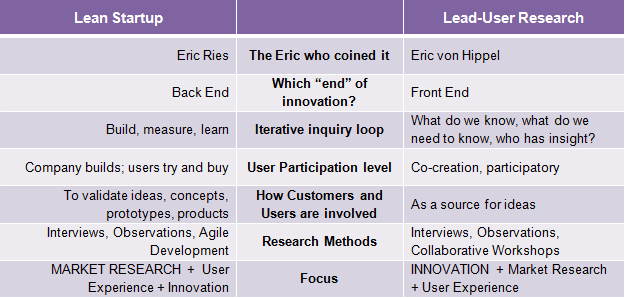 Ivy Eisenberg is founder of Our IdeaWorks, an Innovation and Lean Customer Research' consultancy that helps companies connect to customers and other stakeholders to discover business opportunities, accelerate growth, and build and deliver successful products and services.  Ivy has more than 25 years of experience in the Front End of Innovation, user interaction design, and software product and project management. She has worked in healthcare, financial services, B2B, consumer goods, and telecommunications sectors.  Ivy is also an award-winning humor writer and storyteller, with an MBA in Marketing, Entrepreneurship and Innovation from NYU's Stern School of Business.