80% of life sciences professionals predict a COVID-19 vaccine will be approved in their region within 18 months according to new data from an Informa Connect Life Sciences and BioProcess International magazine study. The April 2020 study was conducted on 629 life sciences professionals from the pharma, biotech, medical device and regulatory industries around the world. Explore or download the full study report here.
The average prediction for when a COVID-19 vaccine will first be approved is almost 14 months, with 37% believing it will be between 3-12 months, and just 4% over 24 months. Those based in Europe are slightly more optimistic than those in North America,  with 43% of the former predicting a vaccine will be approved in their region within 12 months, versus just 28% of the latter.
How soon do you think a vaccine for COVID-19 will be made widely available to the population in your region? (By respondent region)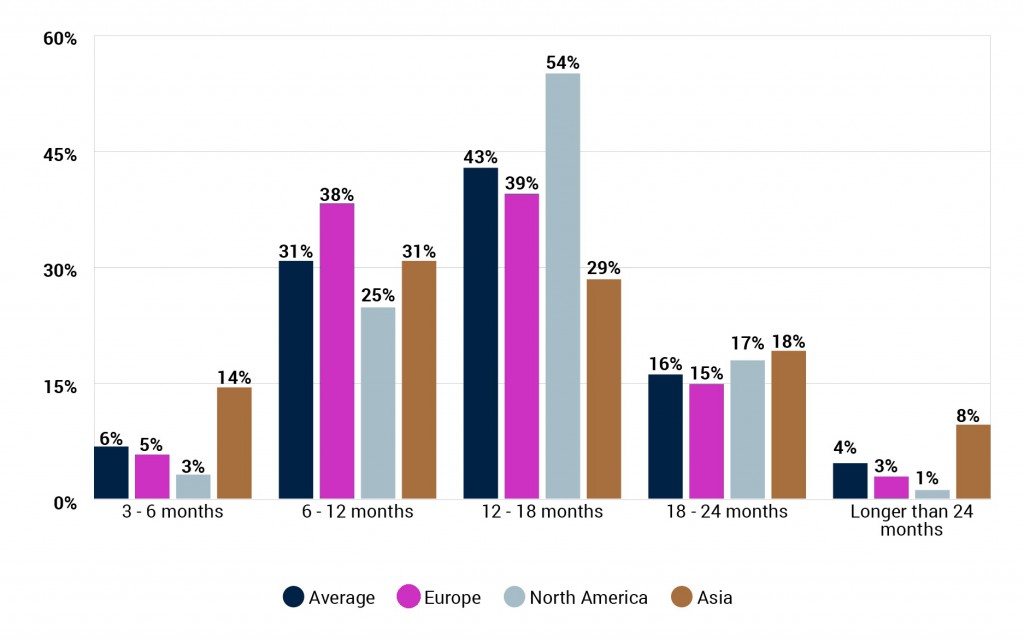 The industry unsurprisingly thinks that it will take longer for a vaccine to made widely available within their region after it gains approval, though possibly not by as much as it may be assumed. Whilst 14 months was the average response for when a vaccine will be approved, the average for when it will be made widely available is just under 18 months.
How soon do you think a vaccine for COVID-19 will be made widely available to the population in your region? (By respondent region)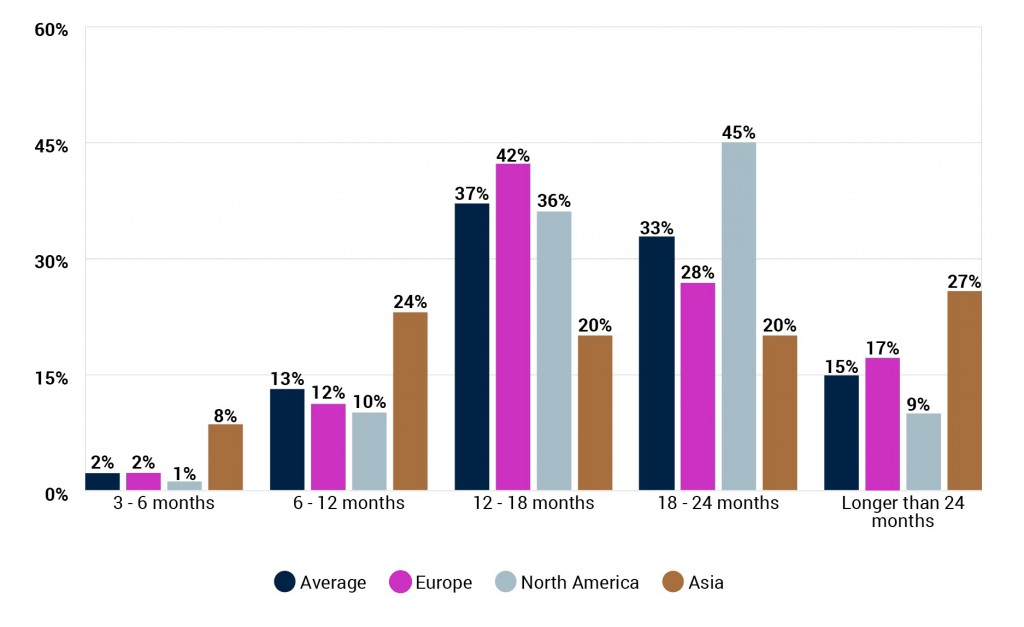 Before a large scale COVID-19 vaccine can be produced, a number of challenges need to be overcome and three stand out. The safety of any vaccine is the biggest concern (28%) among industry professionals, whilst manufacturing on a large enough scale (23%) is not far behind. ​​​​However, perhaps surprisingly given the number of studies already underway, finding an effective vaccine is seen as the second biggest challenge (27%).
What is the biggest challenge in producing a large scale vaccination?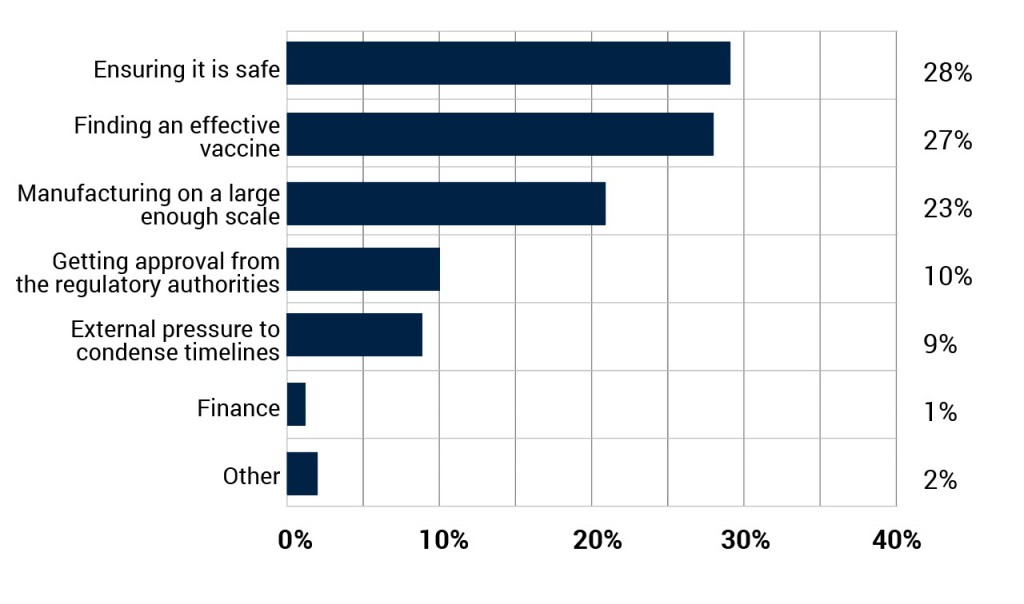 Accelerating a COVID-19 vaccine safely
Study respondents were asked how approval and manufacture of a vaccine for COVID-19 could be accelerated safely, with a broad range of suggestions:
"Short cuts will lead to unintended consequences. I do not think we can accelerate the testing for approval safely."
"Reengineeering of a preexisting vaccine."
"Parallel work on research, development, clinical trials, manufacturing & scale-up and regulatory approval. Secure global governmental funding."
"Obtain sufficient data on safety and efficacy with systematic long term follow-up of quantitative antibodies (recovered patients AND asymptomatic cases). Define early potential for virus mutation and antibody protection over time to assess magnitude of efforts for manufacturing and approach to costs coverage."
"Much like the whole industry has come together to help fight this virus, I think the industry will continue to come together to approve and manufacture a vaccine. It will require shuffling of priorities, capacity and many other things, but we are already doing this currently."
"Manufacture ASAP following pre-clinical results. Be financially strong to handle disposal of therapeutic if it doesn't pan out."
"Larger population study for a shorter period of time."
"Funding - moving quickly costs money. Companies will need to be ready for large scale manufacturing before approvals are given. There needs to be something to protect those investments so corners are not cut."
"Coordination between all regulatory authorities and cooperation between countries."
"Commonly used three trial phases may be rescheduled, one overlapping the other, during the last month of each of the phase in sequence for a positively effective vaccine."
Overall, whilst life sciences professionals are clearly optimistic about the development of a COVID-19 vaccine in record time, it is also apparent that much uncertainty remains and there are a number of challenges that still need to be overcome.
Explore or download the full interactive report below or here.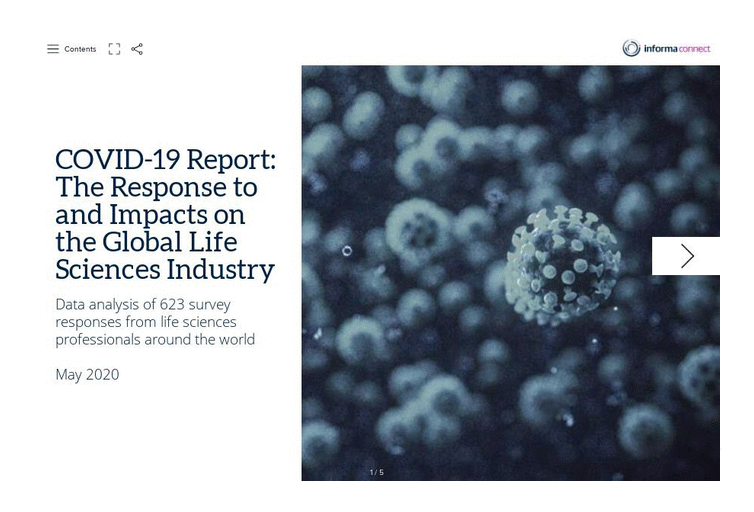 For any questions, email andrew.burrows@informa.com.