Here in Boston, I'm writing live from BEI:Back End of Innovation 2012. I started off the morning in "Enterprise Innovation: Convergence & Return" with Dr. Dennis Curry, HEWLETT PACKARD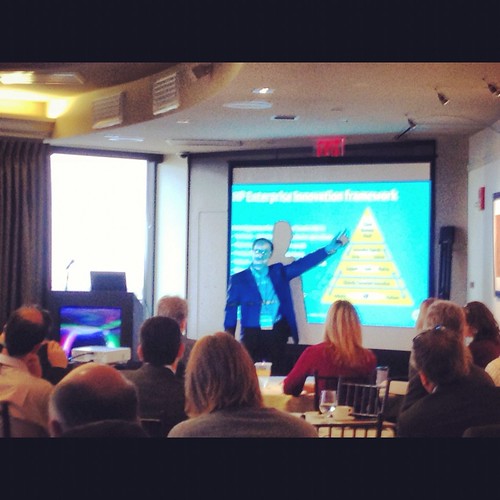 Using their innovation framework, HP practices co-innovation with 1,500 global clients managing 2,400 strategic initiatives. Curry spoke of HP's Innovation Agenda suggesting the following takeaways for those pursuing enterprise innovation:
A systemic approach supports convergence and real ROI
Focus on corporate and client metrics
Focus on leveraging existing investments first
Client and customer-centric: help the client innovate
Evolve and lead by being objective and measurable
One key quote from Curry's session: "the practitioners are the ones that really make a difference"
Next, I visited the Portfolio Management summit to hear about Pitney Bowes Employee Innovation. Brian Romansky spoke of the value of finding internal entrepreneurs. Employees who hold themselves accountable for innovation and it's execution, internal entrepreneurs are willing to engage anyone who can help, have a clear vision, are eager to learn and adapt in order to meet the goal and are not deterred by barriers.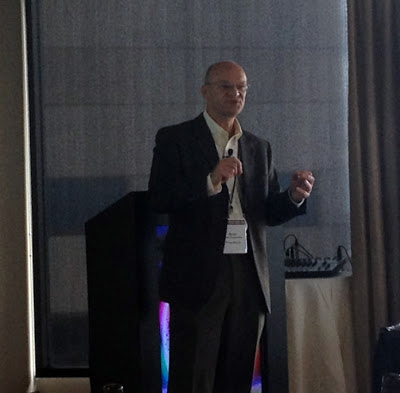 Similarly, you can look to eternal entrepreneurs to drive innovation - providing seed funding for example. This can lead to a return via licensing revenue, equity, market knowledge and/or acquisition. Pitney Bowes has had success with running competitions, such as this one, to engage outside entrepreneurs for innovation partnerships.
Overall, Romansky identified the "secret sauce of innovation" as a mix of accountability, execution and learning.
Dwayne Spradlin, INNOCENTIVE discussed "Proven and Measurable Customer Results Through Return-on-Innovation" in the last session before lunch. He reiterated many of the challenges we've heard of all morning, for example: how do you identify the correct person to solve problems, how to innovate in a large corporate culture and as you do pursue innovation how do you measure success?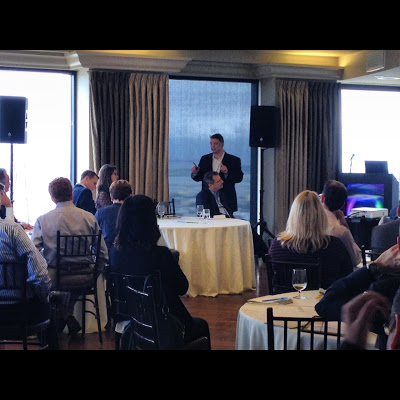 My favorite takeaway quotes from his session?
1. "you better know what it is you want to innovate & what success looks like" - you can't measure ROI unless you know what you're actually trying to achieve, but that doesn't mean it's not measurable. Make sure you're asking the right questions.
2. "I believe most innovation today is happening at the margins" - you don't know who has the answer you need so you may not know where to look, ask everyone, look at adjacent industries or at experts outside your organization, crowd-source.
After lunch, we'll be wrapping up our summits and kicking off the main event with a keynote. Stay tuned for more coverage.
Michelle LeBlanc is a Social Media Strategist at IIR USA with a
specialization in marketing. As part of the FEI team at, she tweets at @BEI_innovation and is the voice behind BEI:Back End of Innovation on Facebook and LinkedIn.