Collaboration is all around us this morning at the BEI: The Back End of Innovation conference!
Chris Trimble, Author & Professor started us off speaking on reverse innovation with two stories of innovating with regards to emerging markets. First we heard of a portable ultrasound developed for rural China, which is completely different from what you would see in the U.S. Rural general practitioners needed a portable unit to take to varied locations, as opposed to large delicate units that stay in one center. This innovation was adopted first in the developing world, but will become the norm in the developed world.
Secondly, Trimble told us the story of John Deere tractors attempting to build a product for India with a U.S. based team that was simultaneously working on other projects. Until the project was treated as it's own 'from-scratch' product, it was doomed to failure. Emerging markets are not the same as developed markets, and are not just waiting to develop along the same lines. They may develop in an entirely different path.
For successful reverse innovation, we need to reach a higher level of thinking to realize that developing world customers have radically different needs. Reaching these markets is an innovation challenge and the stakes are global, not just local.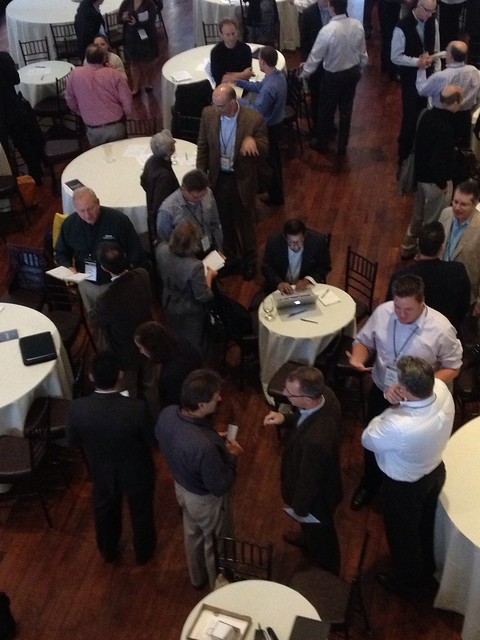 Next our attendees, introverts and extroverts alike, got to collaborate in the first of our sessions with Jonathan Vehar. The session (pictured here) allowed attendees to share big ideas and the innovation challenges they're hoping to solve.
Laurent Mieville also discussed the value of exchanging ideas and cross-collaboration, between industry and academics and between individuals. Diversity spawns innovations: meet, co-create and develop together. Switzerland ranks highly for innovation thanks to an openness to diversity and these collaboration, including very specific events that bring together the needed co-collaborators for any specific topic.
How are you collaborating? What's your "big idea"?
Michelle LeBlanc is a Social Media Strategist at IIR USA with a
specialization in marketing. As part of the FEI team at, she tweets at @BEI_innovation and is the voice behind BEI:Back End of Innovation on Facebook and LinkedIn.