Yesterday at FEI EMEA 2013, Steven van der Kruit, Creative Director & Visionary, Firmenich Perfumery, and Mikel Cirkus, Global Director, Conceptual Design, Firmenich Flavors, demonstrated Monitoring Global Trends: A Revolutionary Approach to Predict the Future by taking us on a Trenz'Walk through Copenhagen.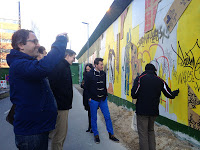 First they connected they shared the process of the research they undertake throughout the world and how that data is gathered together to predict trends and utilized to create products and marketing that resonates with consumers and market zeitgeist.
Some of the global current trends they are seeing are:
The celebration of Death - Very much like Dia De Los Muertos in Mexico, we see death personified and elevated.
The angst and chaos of geopolitical upheaval.
A cry for humanity and love.
The destruction of Nature.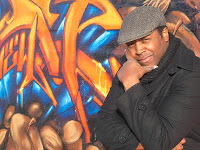 Juse One
Spiders: webs, stories, interconnectedness
Terrorism, gas masks,
Space, aliens, protective suits, futuristic.
A lot of the street art from the outer edges of fringe culture express vectors of emotions that are on the forefront of mainstream culture.
Our first stop on the walk was the Gotham Gallery, where local graffiti artist Juse One, showed us some of his recent work, in Dopeness, and Street Art on the Run, which featured graffitti, art and photography from Kibera. Then we headed over to where they are building a new metro to check out some of the "free walls" in the city where local street artists are actively expressing their art. The last leg of our trip took us to the "hall of Fame," quite possibly the longest "piece" of continuous street art on one wall, located near the H. C. 'rsted Power Station.
Take a look at all the great art and trends we spotted and see if you can make out the patterns and similarities that stand out and then take that perspective with you as you look around you.