In the first afternoon session
Hein de Keyzer, CEO at CogniStreamer introduced his Platform for Innovation.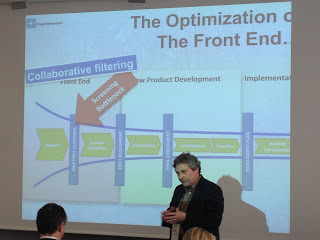 About
10 years ago the main problem of Innovation Managers was, that it was hard to overlook
the big picture- a strong need to optimize the Front End of Innovation became
obvious. Therefore, CogniStreamer developed a redesign of the Front End of
Innovation to improve the Stage gate process, starting about 6 years ago.
The main challenges for
companies and their Innovation Managers are:  
How to move from
incremental to disruptive innovation?
How to create an environment and a platform that people within the company can
work together?
How can we help people that
they share information and drive towards results?
How can we strengthen this
by the help of new tools?
The underlying base premise
for the CogniStreamer approach is: Everybody is an innovator! Based on the
Company's experience People pop up that have not been defined as experts
before.
It's about tunneling and suggestion.Via the platform the
information ia pushed through the workflow until getting results. Based on the profiling
and the content the right people are identified to participate and being invited.
 In a metaphoric way a
gardener does seeding, feeding, weeding and harvesting, this is what
CogniStreamer supports within the innovation process. The Innovation Manager
needs to be the gardener but he should use effective tools like the platform.
Frauke Lohr is running her own consulting business named Comsciencia, targeting customers from industry, academia as well as politics with special focus on innovation topics. She is currently attending the 6th annual Front End of Innovation EMEA in Z'rich, Switzerland on February 27-29, 2012, and covering the event live via the FEI Blog and Twitter.